Earth Hour is here, being held on March 19, 2016, 8:30 pm local time. The Earth Hour is a non-profit organization that is based on Singapore. The organization is leveraged by the WWF and other global organizations. Every year, the organization holds a Light Off event where countries gather to turn off lights for one hour in order to protest against the abuse we are doing to the environment and climate of our planet. 172 countries are included in the program. The environmental degradation leading to global warming and climate jeopardy are no new things to discuss. It's high time that we must become aware and conscious about our own existence. One of the prime factors of climate abuse is the exploitation of energy sources. Hence, energy conservation is very important as we shall soon run out of the energy sources that we use in our daily lives. Discovering renewable sources of energy, using earth friendly technologies to harness energy are some of the main motives of Earth hour.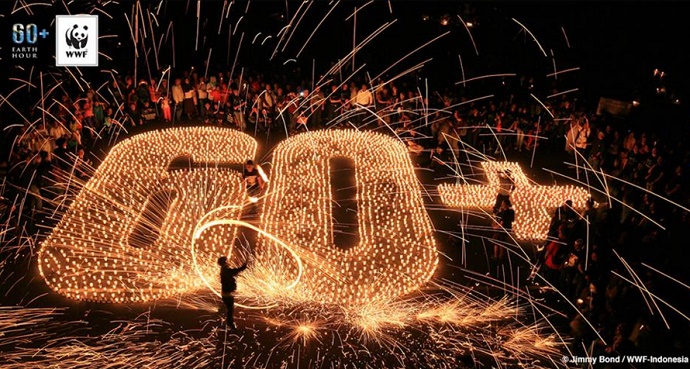 The event has been held already in several countries of Asia. The countries have actively participated in extending their support and encouragement towards a better future. Some of Asia's best known landmarks and building went into complete darkness on March 19 (local time) to take part in the "Earth Hour" climate change protest. The monuments and building that showed their solidarity towards our mother earth are Hong Kong's famous Victoria Harbour skyline, Tokyo Tower in Japan's capital Tokyo, the historic Confucius Temple in Beijing, China, Quezon Memorial Circle in suburban Quezon city in Philippines. Many environment activists, famous personalities, common mass including students putt off light to put forward their support for Earth Hour. One impressive thing that participants did was creating a gigantic map of Philippines illuminated by pedaling bamboo made cycle bikes fitted with small energy generators to power LED lights.
As the organization says. "Earth Hour is more than an event. It is a movement that has achieved massive environmental impact, including legislation changes by harnessing the power of the crowd."
It's time to wake up and be earth-friendly for the sake of our own existence. Check out more about Earth Hour from earthhour.org.