If you're a racing fan who has never experienced a force feedback wheel, you should try Thrustmaster T300RS to have a real time feeling the grip around the turn rather the graphical gloss. It uses powerful motors that helps to simulates force and let it fight against the turns. The T300RS, a high-end force feedback wheel comes along with the necessary power cord and cables and no need of any extensions. T300RS comes into three main parts- the wheel, motorbase and the two foot-pedal board. There is no separate gearbox provided and the pedal board also lacks clutch.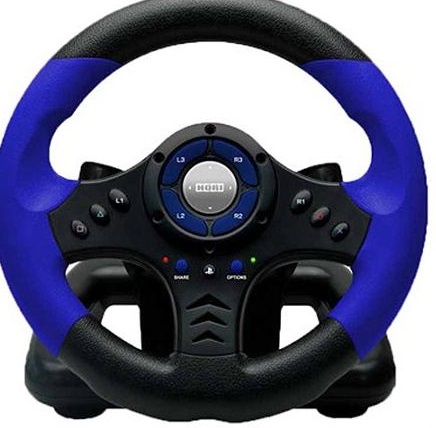 Force feedback wheels are heavier and bulkier than the basic plastic kind. The metal Thrustmaster T300RS wheel is covered with rubber to provide high friction and rugged surface. The wheel also supports full 1080-degree rotation, which can be stopped down to 270 degrees in the software using the force feedback motors to block off movement. The 11in diameter racing wheel has brushed metal central spokes and is finished with a reinforced rubber coating that creates plenty of grip. It is fully adjustable, with six possible positions for each pedal; they provide plenty of resistance for an authentic racing feel.
There are several pros for the Thrustmaster T300RS. It is PS3/PS4 and PC compatible. No doubt it has good Force Feedback and smooth turning. It comes with GTE or PS4 rim depending on the version. It has smaller yet more practical bas than T500 and it is compatible with current Thrustmaster rims and no need of external power supply also. Along with the features discussed above no doubt TS300RS is a good choice but without clutch or progressive brake, its price is a bit high but expected it will drop in time.
The Thrustmaster T300RS is extremely well made and comes for $400. Its initial setup is very easy that will take only 10-15 minutes of your time. T300RS no doubt is an excellent racing wheel and it is ahead of its time. Racing wheels are a serious investment, and the T300 RS is no exception. If you have $400 and space in your room, it's worth buying!!