Franky Zapata is a jet ski champion and has recently enlisted in Guinness Book of World Record by riding his own creation Flyboard Air, the jet powered hoverboard the farthest distance. Zapata created his world record by flying 2,252 meters (7,388) feet) on Saturday morning off the coast of Sausset-les-Pins in the south of France. The previous record was held by Canadian inventor Catalin Alexandru Duru by riding a distance of 275.9 meters. This record has been out done by Zapata.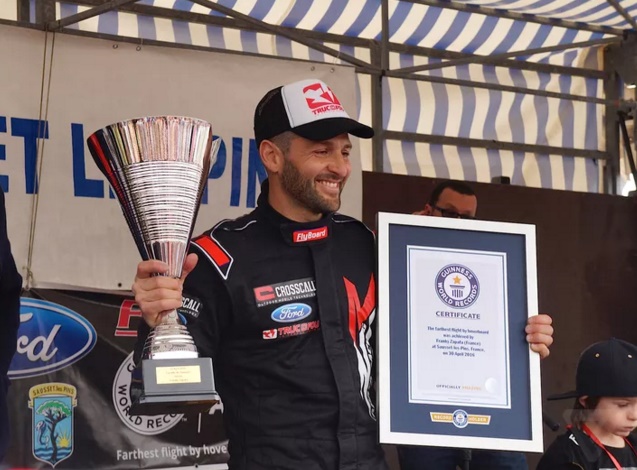 The news of this Flyboard Air hoverboard spread when Franky uploaded a video on YouTube where he was riding his self created hoverboard. Initially it became difficult for people to believe the video. Many thought it to be some advertisement or marketing strategy until the news of the world record spread into the air.
The Flyboard Air deploys an "Independent Propulsion Unit" that can enable the device to be in flight hose-free for up to ten minutes. Flyboard Air has four 250-horsepower turboengines, which are fueled by Jet A1 kerosene carried in a tank strapped to its rider's back. The company of Zapata, the Zapata Racing says the device can reach a maximum height of 10,000 feet, with a maximum speed of 150 kilometers per hour (93 miles per hour). Amazing, isn't it?
Zapata Racing has manufactured a wide variety of water-propelled devices like Flyboard. But Flyboard Air implements a different technology altogether. "This has really been a life's work," he told reporters at a press conference following the flight. More than 200 spectators were present at the event. Zapata told in an interview that initially he was nervous but then all his fears vanished once he was in the air.
Zapata said:
"It's an amazing sensation, it's really peaceful," he said. "I open my arms because it helps me control my movements, but when you open your hands and you feel the wind go through your hand and you have nothing under your feet — it's hard to describe, really. You have to experience this moment in your life."