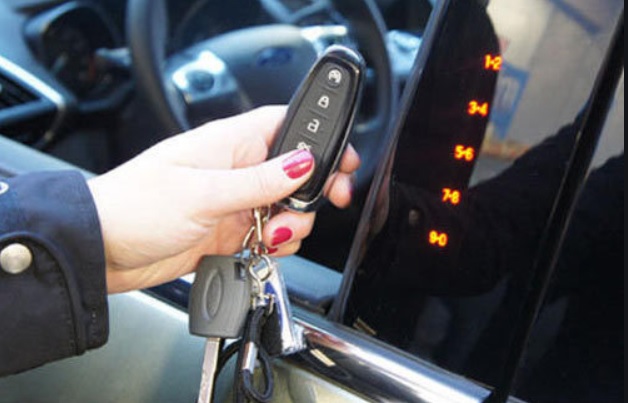 Your and your family's protection is a reason that you should invest some money in the car security system.
You will say that cars come with their security systems, then why purchase another one? This is because the pre-equipped security system in cars is not enough to detect would-be-car thieves. Therefore, you must upgrade the level of your car's security for better peace of mind.
How does a car security system work?
Knowing the working of a car security system will help you better determine a system for your car. Let us see how a car security system works.
In simplest words, it is nothing but a few sensors connected to some siren. Having a good car security camera is important as it not only makes your car difficult to steal but also easier to live.
However, modern car systems are a bit more complicated than this. They have an array of sensors, a siren, a radio receiver, an auxiliary battery, and also a computer control unit or 'brain' of the system that lets you monitor everything. The hidden battery raises the alarm when somebody cuts off the main power source as it is a possible indication of an intruder.
Things to look out for in a car security system
Now, let us have a look at some of the things to consider before you put your money into a car security system.
1. The objective of purchasing a car alarm
If you are adding a car security system just for some extra level of security, you can go for a one – way alarm system, which only sends commands from the remote to the vehicle.
But if you live in an area having a high number of auto thefts, you should go for a two – way alarm system. In this system, your vehicle will transmit information back to your remote.
2. Encrypted Transmission
With the advancement of technology in the security system of cars, thieves are also coming up with ways to hack the high-tech protected cars. To avoid the thieves from hacking your remote signals and key fob and accessing your car, you have to install a system that attaches an encrypted code to the alarm.
This is a must-have feature in your system if you love using the remote to enter your car. The encrypted systems are extremely secure and cannot be cracked down without being notified.

3. A system that is easy to install
Since you are planning to buy a new security system for your car, you have to choose a brand that can be installed professionally. Before purchasing a system, check out whether you can install or replace the system all by yourself, or would you need the help of a mechanic.
Some modern security systems have wirings that are difficult to understand and fix. Therefore, you must check it beforehand. While purchasing a security alarm, high flexibility in the installation is a big requirement.
4. Internet Research
You should not neglect the significance of the internet while choosing your car's security system. There are various websites you can scroll to find reviews from customers. If you are purchasing your system online, you should choose the most reliable and trusted site for the same.
However, it is always a good choice to purchase from a site that provides other accessories such as subwoofers, car stereos, and car speakers apart from alarms. This ensures that that website selling these products has the potential to offer the best quality products for your car.
5. Mobile Application
You must take into consideration features such as a mobile app that can link your mobile to your car's security system. But not all the companies provide this feature along with their security systems. The companies that use cloud technology use this feature to help their customers control the security systems in their cars.
Accessing the information of your car on your mobile is a remarkable feature as it is convenient operating from your hand. The mobile applications will give real-time updates via text or email. You will also be free from the hassle of carrying an extra remote around.
Important – Do not forget to consider the price!
While purchasing a security system, you must consider the price. You are advised to be realistic while setting up your budget because you will not be looking for a cheaper odd.
You must make sure that the features of the system justify the tagged price. Some dealers may overcharge you or provide a substandard security system at a higher price. Therefore, you have to estimate the general cost based on the features and negotiate to meet your budget.
Bottom line
Choosing the best system for your car is a serious decision and must be made with care. A thorough analysis will help you get what you need, where you can get it, and explore more options are you learn.

With the increase in the number of car thefts, you can avoid falling victim by being prepared in advance. We suggest that you take caution to protect your car and your loved ones. You must never leave obvious valuables exposed in the car, or avoid leaving the car in dangerous areas.
But, if you need to add extra technology to help you get a peaceful sleep at night, then there are many gadgets out there that can protect your car from thieves.