Push scooters are just the coolest things and this cannot be argued! Add a motor and now they are suitable for adults. After all, we are just big kids! 
Relive the experience of being young with an adult scooter. A super fun economical and eco-friendly way to get around every day!
Here is what you need to look for when buying adult electric scooters.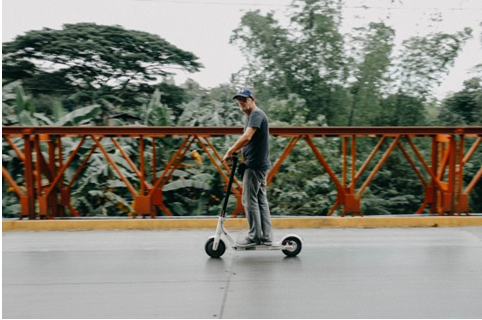 What type of scooter suits you? 
Different types of scooters fit different kinds of lifestyles. This is a great place to start when wanting to buy a scooter. Knowing what type of scooter is going to fit with who you are and ultimately what you are going to use it for. 
Now, there are many types to look at here. There are professional type scooters that are specific to people that use them for work purposes, like security guards or delivery drivers. 
Some people use it for adventure purposes like off-roading or camping and then there are people who use it for everyday use like commuting to and from work or to the shops and back. 
At iScoot there are 25 different scooters to suit different lifestyles. 
What to look for in an electric scooter ?
After figuring out which scooter type you are looking for. The next step is to know what you need to look for to find the scooter that suits you. 
You are going to look for general features of a scooter, such as a wheel size as it is important to know which kind of wheels best suit where you are choosing to ride. Deck size as larger deck sizes is suitable for long rides. Whereas smaller deck sizes are suitable for doing tricks. 
The scooter handlebars. Which should be reaching up to your waistline. As this is going to add to the overall comfortability of the ride. 
If you are choosing to buy a scooter because you want to exercise. You are going to look for features. Yes, scooting can be a part of your exercise routine and most certainly is a full-body cardio workout. 
iScoot recommends the Kaabo Skywalker 10H or 10C. It has an 80W motor, dual shocks and has 10" tyres. It is perfect for long distances so that you can really feel the burn. It can take up to 210kg and can be folded up to be taken anywhere. 
If you are unsure about what you are looking for. There is a scooter for that too.  A scooter like the "Blackhawk" is the type of scooter that is categorised as versatile. Is an all-rounded scooter. 
It has a bit of everything in case you are not sure about what you want in a scooter and may want to attempt at trying out the different activities they can be used for. 
It is economically beneficial 
The scooter is essentially an alternative to walking. The biggest differences are that you will get to your destination quicker and you are going to look super cool getting there. 
Buying an electric scooter really is such an economical way of getting around. You are first, eliminating the hassle of public transport and paying for train or bus tickets. 
Secondly, you are choosing an environmentally friendly mode of transport as it does not run on any kind of gas or petrol. It is also a much cheaper option than buying and having to commit to paying off a car. 
You are literally saving money and the environment one push at a time! 
It is fun!  
If you are wanting to relive your childhood dreams of scooting around the neighbourhood with your friends then the simple answer is: Yes, you should buy yourself an electric scooter. 
More and more people are trying to find ways to unwind. We have become so accustomed to working hard that taking a break now and then is becoming a necessity. If there is one thing that you should take away from this is that it is fun. 
Buy it because you are guaranteed to enjoy it. Put in those earbuds, play your favourite song and scoot to anywhere you feel like. 
Conclusion 
These are the main things to consider when buying an electric scooter. Choose one that suits you and your lifestyle. There are so many options to choose from. 
Look for the features that fit with those ideals. You are saving money and adding to the conservation of the environment all while having the most fun!