Google Maps' first-ever zip line Street View camera helps to explore the Amazon rainforest.
Now you will have a chance to explore the Amazon rainforest without landing in South America. So wondering, how it is possible? Thanks to our search engine for its incredible Street View Trekker cameras, zip lining the canopy and capturing hard-to-reach, magnificent panoramic views of the Amazon rainforest. The new images have been released on Google Maps.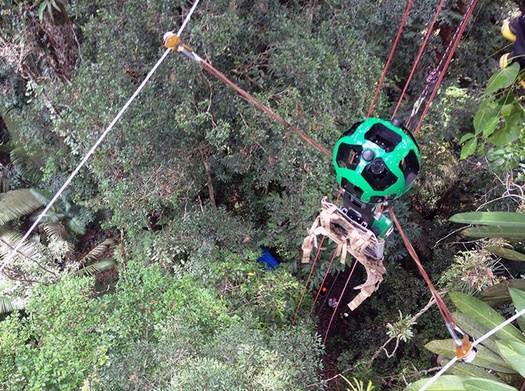 The new venture is a collaboration of Amazonas Sustainable Foundation (FAS) with Google to create an educational virtual expedition of the Amazon rain forest through the zip line cameras. This is the second time that FAS has worked with Google. The first time it used Google's Street View Trike and Trekker equipment to capture areas not accessible with a car. The round dome shaped portable camera has 15 lenses and it takes snaps at an interval of 2.5 seconds. The camera weighs 18 kg (40lb) and can capture 360-degree high resolution snapshots in every direction. It has a speed of 100 km/hr on the zip wire. It is setup near the River Aripuana in the state of Amazonas in north-western Brazil.
If you search in Google Maps, you can experience the real rainforest with a variety of plants, wild animals and insects. Thousands of species exist in the dense vegetation featuring twisted branches, brightly colored leaves, thick moss on a tree, an array of wonderful animals and will make you feel that you are actually in the Amazon. It also captures the images of the tribal villages that lie on the banks of the River Negro – the largest tributary of the Amazon. It also offers the view of the Rio Madeira and the Rio Mariepaua along with Rio Aripuana.
"The imagery is a result of boating down 500 km of rivers, walking 20 km of forest trails and zip-lining though forest canopies," Karin Tuxen-Bettman, program manager at Google, wrote on the company's blog.
FAS say that this partnership is to increase awareness of the people, plants and animals that live in the Amazon forest.