Samsung has announced the release of the new version of the virtual reality headset, the Gear VR "Innovator Edition", fully optimized and compatible with Galaxy S6 and S6 Edge, its next generation smartphones. The first edition of $199 Gear VR headset was limited only to the Galaxy S4 users and now with the announcement of Galaxy S6 and S6 Edge, one can experience the virtual reality headset with three Samsung products. Samsung is still working on bringing their virtual reality technology to the next level. So the "Innovator Edition" is still very much a beta product.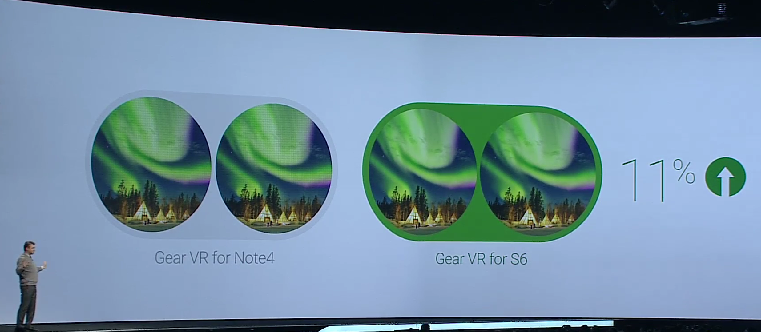 The Gear VR headset has design and functionality same as the original version but it has 96-degree field of vision and it is 15% lighter overall. The Galaxy S4 has 5.7 inch screen while S6 has 5.1 inch screen. It is assumed that due to the reduction in screen size, the headset is 15% smaller than the original one. The major upgrade of the new version is the introduction of the USB port for longer sessions. The headset will also connect to one of the new Galaxy S handsets via a MicroUSB cord. Ergonomically redesigned straps give better weight balance and it will be available in the Frost White color. It has greater computing power and has improved graphics quality that enables users to explore the best virtual reality adventures. Gear VR content is available for download via the Oculus Store. Users have an extensive selection of optimized, localized virtual reality content from top-tier creators including thrilling VR games.
There's no information on price or availability yet. It is expected to be somewhere around $200 and hopefully will be available close to the Galaxy S6 and S6 edge's April launch date. My personal opinion is that if you have already decided to buy Galaxy S6 or S6 Edge, spend some $200 extra for a virtual reality experience.