The e-mail services like Gmail, Yahoo and Hotmail may be banned by the Indian government for official use after allegations of cyber spying by the US has been reported. Email service providers such as Gmail has their servers based in the US which may access the large amount of critical data. As a measure to safeguard confidential government information, a ban will be imposed on Google's Gmail for official communication in India.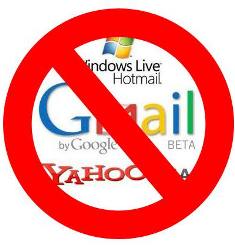 This stringent step may come into action in India after Dubai announced a ban on private emails by government officials two weeks earlier. The government employees will use the official email service provided by India's National Informatics Centre in lieu of the private mailing services. This proposition is yet to be addressed in the government domain.
This move came into existence after reports by former US National Security Agency contractor Edward Snowden showed that US government has access to large amount of personal data on the internet through mails and chat messages using a programme called PRISM. These documents by Snowden reveal that NSA might have accessed network infrastructure of many countries causing concerns of potential security threats and data breaches. The leaked details of secret data mining revealed by Snowden led many countries to analyse the safety of their official communication networks which relies largely on the internet.
Many government officials in India including ministers use Gmail IDs as their official email and this could interfere with the security of the country if reports of Snowden are true as many critical data would be accessed. Since most of the private service providers have their servers located overseas it is difficult to track if sensitive government data is being spied upon. Thus using government email services would help to overcome this security threat since it will use NIC servers which would be linked to a server in India.