Video compression is an essential step that a computer user must follow, to save space of his/her computer's hard disk. Now, we all have high quality cameras and smartphones with us. Thus, we never fail to capture any special moment in our lives. Capturing high definition, Full HD and UHD videos may be fulfilling, but they clutter the RAM as well as the ROM of your computer, thus consuming a great part of the device's life.
What is Video Compression and Why Is It necessary?
Video Compression is a process in which a humongous video file is encoded and converted to such a format, that it occupies a significantly lesser space in the computer hard disk, compared to the space occupied by the original video. Video compression process is accomplished with the help of a video codec. A video codec is a consolidation of one or more compression technologies following specific compression algorithms. The technique of video compression involves removal of non-functional and chunks of redundant data. However, the overall idea of video compression is much more complex than what I have written.
Compressed videos are easier to upload on social media, easy to send to others over cloud storage, etc. If you try to upload a high-quality large video file, you might stumble upon size constraint. Again, if the internet signal gets slow at certain point, the video does not upload properly, and gets pixelated at certain instants. Thus, video compression is important, and there are several video compression software applications available in the market.
In this article, I shall review the Wondershare Uniconverter for Windows. It is available for macOS as well. The software is a versatile converter application, which can perform a plethora of functions. We shall see how to compress a large video file.
Salient Features of Wondershare Uniconverter for Windows and macOS 
Wondershare Uniconverter is capable of lossless compression. This implies that the software does not degrade the quality of the output video.
As mentioned earlier, the application is supported on both Windows operating system as well as macOS operating system.
It's not just a compression software. It enables users to edit the video, crop, trim, rotate, apply filter effects and watermarks. Besides, you can also create GIFs, fix video metadata, record screen, cat video to bigger screen and many more.
Uniconverter provides a wide range of customization, such as changing parameters like size, resolution, frame rate, bit rate, and format.
The application is also capable of batch conversion and compression.
The software is equipped with APEXTRANS technology which bolsters the compression function, 30 times faster compared with other software than any other software.
Operating systems and corresponding versions that support Windows 10/8/7/2003/XP/Vista, Mac OS 10.15 (Catalina), 10.14, 10.13, 10.12, 10.11, 10.10, 10.9, 10.8, 10.7, 10.6
Steps To Compress A Video With Wondershare Uniconverter for Windows
First, download Wondershare Uniconverter for Windows. Run the .exe file. Install the application by following the instructions. When installation is complete, click on Start Now.
The user interface looks like this. You can check all the options available on the app screen. These are Convert, Download, Burn, Transfer, Toolbox, etc.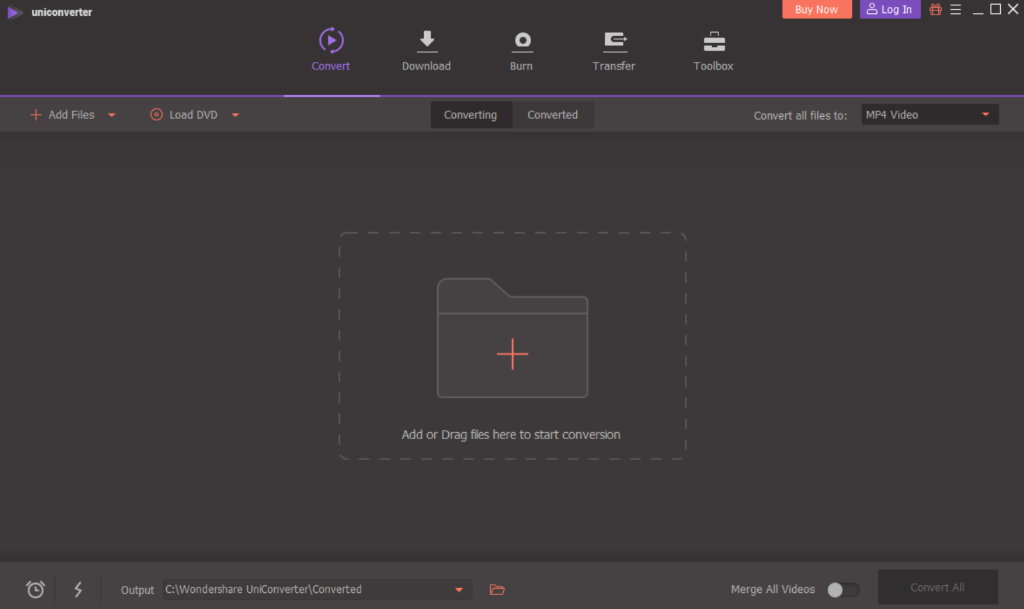 When the video is loaded on the workspace, click on the Toolbox menu. Click on the Video Compress menu located at the center.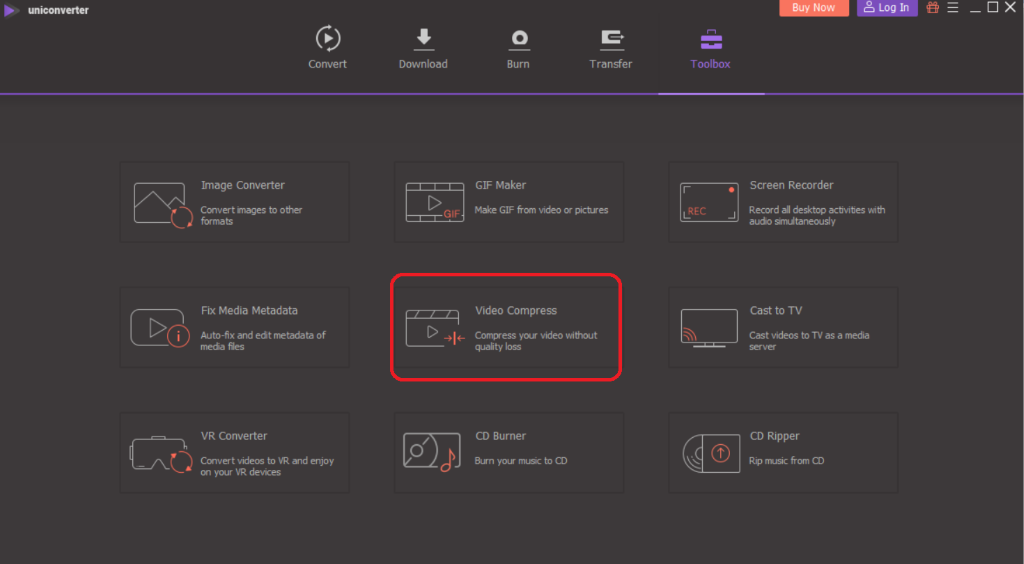 A new tab appears. Click on the plus sign to add the video you want to compress.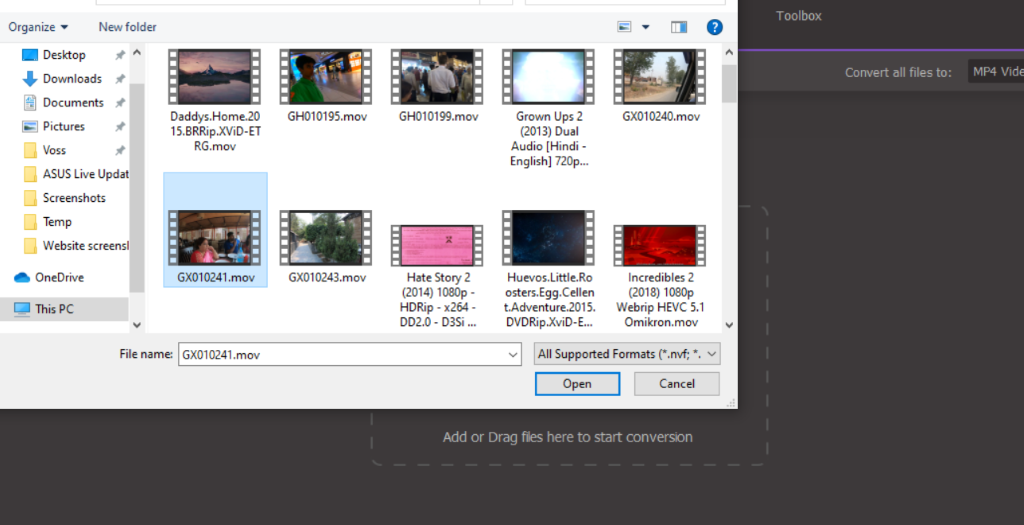 As the video is loaded, you will get several customization options. You can check the compression percentage, the preview of the output video, etc. When you finally select your desired settings, simply click on Compress.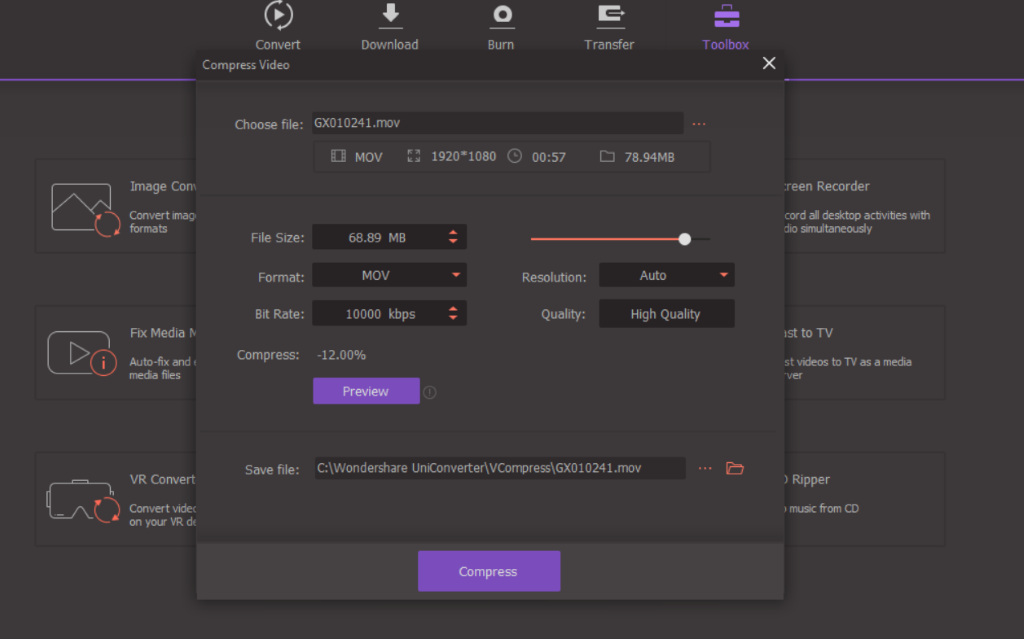 That's all.
Uniconverter is indeed a great companion, if you have a constraint of space in your computer. The app is a one stop destination of a plethora of applications and features. The free version is quite commendable, as it lets you try and test the software before purchasing.