When you take a snap with any smartphone, it records information related to the image. The information that we usually see are the camera specifications like exposure, focus, shutter speed, ISO and other general information image date, Geotag or location etc. However, sometimes it happens that the location is not exactly same as the one where you are present. The location extracted is somewhere nearby but not exact. When you post the picture to social media, the incorrect location displays and how can't edit it. Another circumstance can happen, when you don;t want others to know your location and you want to change it. If you are an iPhone user, then you have an app handy known as Mappr Latergram Location.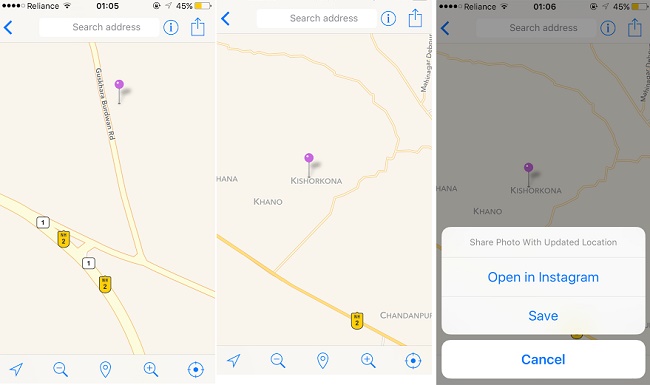 With Mappr, you can add any location you want to add in your photo and there is no restriction of giving the location embedded in the album. Add any location with Mappr and save it and immediately open Instagram in a second. After you finish your upload via Instagram, the new location will be visible on your Instagram Photo Map. On the one hand you can rectify incorrect locations, on the other hand, you can also fake genuine locations. For example, you are in Times Square, New york and you are giving location as London. You are surprised right?
FEATURES:
Select any photo from your photo library
• Camera: use the camera to snap photos
• Easily add new location or change existing in just one tap
• Easily add new location from address, city or country
• Preview the photo you are editing
• Save the photo to library and directly launch Instagram Camera, where you manually choose the photo with new location
• Or just save the new photo in your photo library without opening Instagram

When you open the Mappr app, it will take you to the Gallery. Choose a photo and the location will be displayed on the map with a pin marking the exact location. You can move this pin to a different location and then share the photo via Instagram. The new location will be the displayed location on your Instagram photo.
Download Mappr – Latergram Location