iCloud Photo Library is the official cloud storage for photos and videos for iOS devices like iPhones. iCloud helps you save the phone memory of iPhones. As we all know that iPhones have huge but limited memory, that is, it is not expandable via micro SD or any other external memory chip. So, even if the on board storage is high, you are ought to be out of memory. So, one option is to transfer your photos and videos to your PC else, you can simply use iCloud Photo Library. The iCloud Photo Library not only saves your photos and videos on the cloud, but also helps you get every pic on your phone whenever you want without any phone storage consumption.
When you turn on iCloud Photo Library, every photo you take is automatically uploaded in full resolution. And any edits you make are automatically updated everywhere. The ICloud Photo Library helps you save space by replacing photos on your device with smaller versions. And in iOS 11 and MacOS High Sierra, next-generation compression technology lets you keep twice as many photos as before in the cloud. iCloud Photo Sharing makes it easy to share photos and videos with exactly the people you want to see them.
The following tutorial will show you how to enable the cloud Photo Library on iOS 11.
Steps To Enable iCloud Photo Library on iOS 11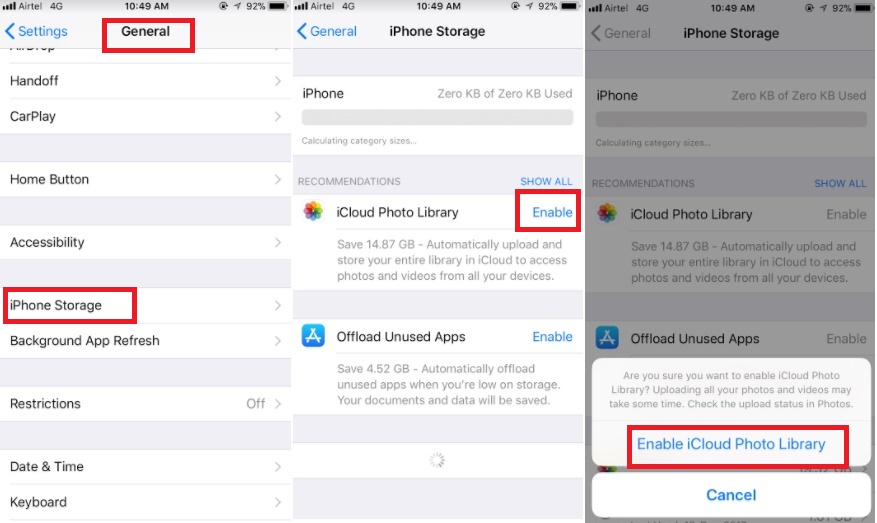 1. First of all, open Settings app on your iPhone.
2. Now, go to General section.
3. Scroll down and you will find iPhone Storage. Click on it.
4. Then select iCloud Photo Library. Click on the Enable option.
5. You will be asked to confirm if you want to enable iCloud Photo Library. Click on Enable.
That's all you need to do.