HTC is one of the most sought after mobile device manufacturing company and it is needless to say that people do wait for the amazing pieces of gadgets from the company. In 2014 HTC launched the most coveted HTC One M8 which received rave reviews both from users and critics. Now definitely as the new year has arrived, we are looking forward to the Mobile World Congress. We hope anther exquisite gadget from HTC. If rumors are to be believed then HTC One M9 is arriving and the day us not far off. Speculations have started after HTC sent invitations to media for a big conference on March 1. The date is few days ahead of The MWC 2015. So there is a decent possibility that HTC might announce some new device.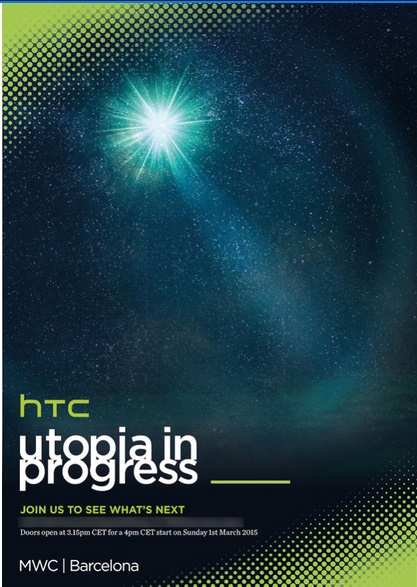 The invitation sent by HTC does not cover much details about any phone. It only specifies the date and time and the event MWC. There is a catchy tagline along with the invitation which says "utopia in progress." Even this tag line is not self explanatory but does tell something resplendent is awaiting. Why not HTC One M9?
Some rumored specs are already making rounds. HTC One M9 will sport a 5-inch full HD display (1,080 x 1,920 pixels), 3GB of RAM, Qualcomm's Octa-core 64-bit Snapdragon 810 processor. It will have a great 20.7-megapixel rear camera and a 13-megapixel front-facing camera. The device will reportedly come with Android 5.0.1 Lollipop from factory. Others specs have not yet been known but we have to wait for March 1.