HTC announced in Twitter that Android M will be coming with two flagship phone HTC One M9 and One M9+. The time and date of release has not yet been decided. But it's immediately after Google announced its new Android M, that HTC revealed its plan of updating the two flagship phones with the new Android version.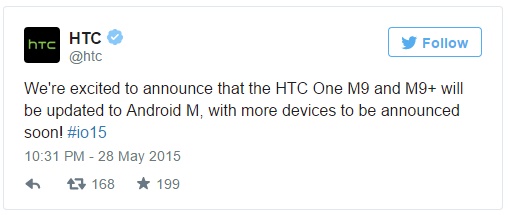 However users are still inquisitive about the date announcement as last year, with the release of Android Lollipop, HTc announced to bring it with HTC One M7 and HTC One M8. But the company failed to keep up with their words. Apart from these two devices, many more will get updated to Android M. Even though HTC has not yet mentioned any specific names other than these two, but it can be anticipated that the year old HTC One M8 has a good chance of being updated to the new OS.
HTC One M9 has released with Android Lollipop from factory and now heading towards Android M. Check out the Tweet by HTC
.