Moto 360 came to the gadget market as a quintessential Android Smart Watch back in March 2014. The smartwatch was followed by several other smart watches from different manufacturers. Out of all the Android wears launched in the market Moto 360 brought the stylish look of a watch teamed up with elegant features. We won't say, that Moto 360 is completely flawless, but here's some reasons why Moto 360 is still the best choice among all Android wears.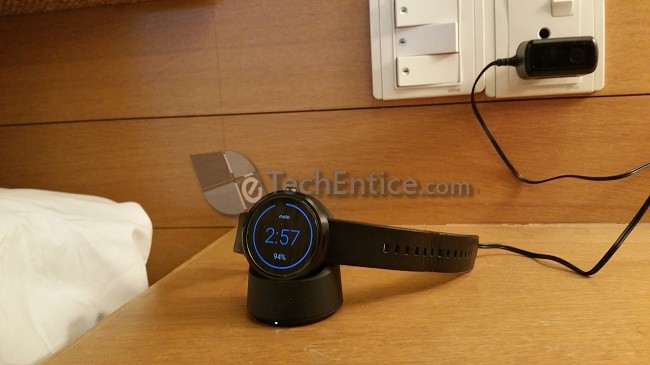 The design of Moto 360 is a winner in all aspects. The round dial, leather straps and different colors are way ahead of the Samsung Gears and LG Android Wears in terms of elegance in appearance. Whereas Samsung has rectangular dials, the round dial of Moto 360 gives the gadget more of a watch look, than something electronic bulky gadget. Even though LG designs round dials, but Moto 360 being the first one to introduce this concept for smartwatches. Besides, the smooth stainless steel body and the stylish wrist bands will get several thumbs up for Moto 360.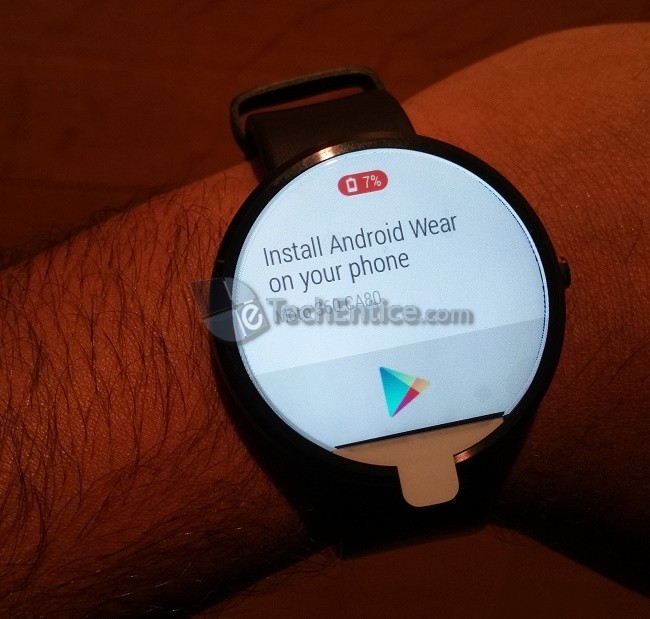 Another aspect that we liked is its light weight about 49 gm. LG G weighs around 62g. Even a loss of 20g in weight gives a relaxing feeling to the wrist. The 49 g weight is for the leather band model. Moto 360 has two more variants in terms of bands, the 23 mm metal band model weighs 124 gm whereas the 19 mm metal band model weighs 104 g.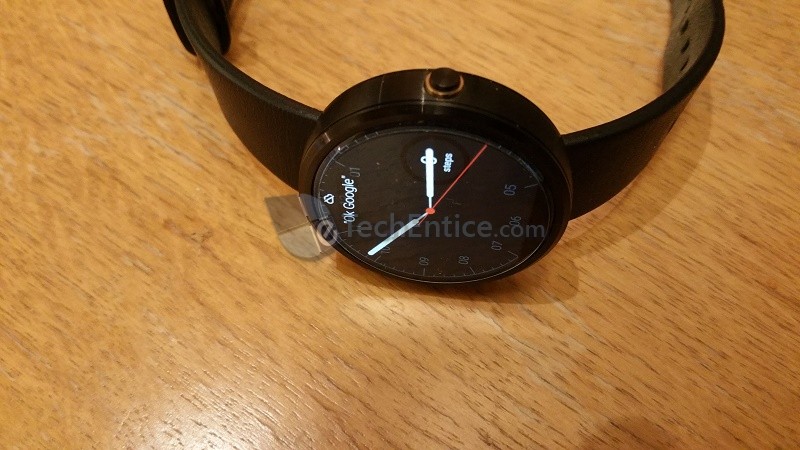 Let's have a quick look at the features:
1. 1.56″ LCD display with 320 x 290 pixels and a hardy Corning Gorilla Glass 3. The pixel density is a bit low compared to its competitors, but still with pixel density of 205ppi the screen looks pretty sharp. It's screen is around 40% bigger than the LG G Watch's. LG G Watch R has bezel around the edge and clock markings, while the Moto 360 has front face with almost no bezel.
2. Stainless steel case, water resistant with IP67 rating.
3. Wireless Charging Doc.
4. TI OMAP 3 chipset; 512MB RAM; 4GB of built-in storage
5. 320 mAh battery
6. Bluetooth 4.0 LE connectivity.
7. Dual microphone provides clarity in sound.
8. Heart rate monitors and pedometer let you check some basic health functions.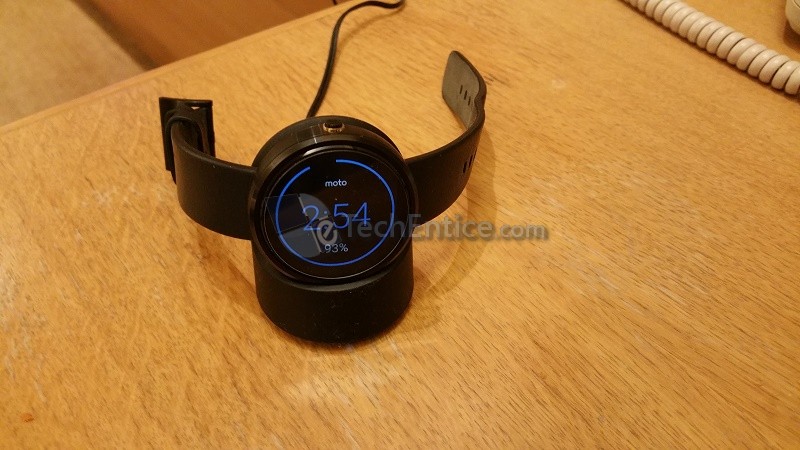 Currently the device runs Android 5.0.2. The Android facilitates Google Now integration which means more interactive and smooth performances.
Moto 360 lags behind its competitors for its battery and lack of inbuilt camera. Though camera on a smartwatch is not so much desired but battery is no doubt one of the deciding factors. Moto 360 comes with a 320 mAh battery which is much lesser than LG G watch's 410 mAh battery. With keeping Ambient display ON, Moto 360's battery lasts around 12 hours with moderate usage. You may keep Ambient display off to get some extra hours. The watch comes with a wireless charging dock and a charger. Even though the battery performance is not that impressive, still considering its design and features, it's commendable.