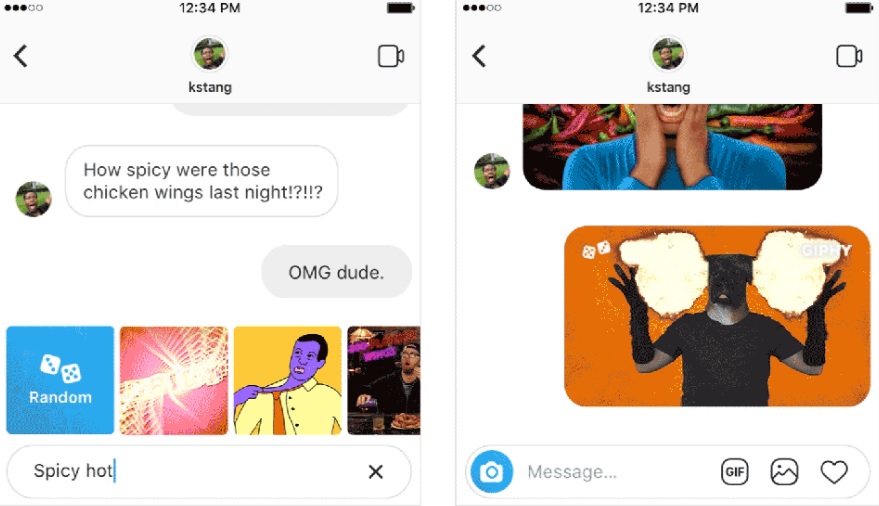 Instagram had rolled out several interesting features ever since it has been acquired by Facebook. Earlier this year, the photo sharing social media app included an extension to the Sticker feature. It enabled users to add more style to moving images. Now, it also enables users to send GIFs in Instagram direct.
The sending ability of GIFs via Instagram Direct lets you "express yourself in countless visual ways when you're messaging your friends." All you need to do is to update the Instagram app to the latest available version/ Finally, you will be able to search for the latest popular GIFs. As you know, GIFs in Instagram are officially powered by GIPHY. So, tap on the new GIF Button and unfold the huge collection of GIFs in the composer bar.
GIPHY has an enormous collections of GIFs to choose from. You can also search GIFs by keywords. For example, if you are trying to send Laugh GIFs, then you can search by keyword "laugh" or "laugh loudly" and you will get a set of related GIFs.
Again, if you want to send a random GIF to your friends or family, the new feature lets you tap "random" after typing in the search bar. The random GIF to be sent will be related to your search, of course. The new feature will roll out for Android and iOS platforms very soon. Check them out in the update of the app.