"I live in the dark; I have no guiding light… I'm whispering in your dreams…" – Iron Maiden's Life after Death Album.
The world's biggest social media site Facebook on Thursday announced a new feature that will help you to choose your guiding light after your death. Well confused? Facebook has announced for the new feature that allows the user to nominate a 'legal contact' to handle the one's Facebook profile after death. So now one can remain active after death. It's damn interesting. Death may take your soul but your online spirit will be there forever through Facebook. Well, if you don't want this, no problem, Facebook now includes the feature that will help to delete your account after your death also.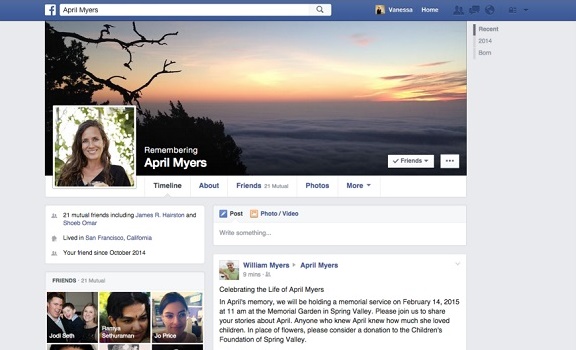 For the time being, only the US users will have the privilege to choose their settings for their afterlife either by deleting the account or granting permission to a near and dear one to manage the account on his behalf. Facebook calls this nominee the account's "Legacy Contact". After Facebook receives notice of the user's death, the 'legacy contact' will be able to change the profile photo, accept new friend requests and can pin announcement on the account's timeline. Facebook will let the nominee to archive all the old photos and posts but not let the 'legacy contact' see the private messages. And here lies the magic of Facebook. After death also, the deceased person will have the privacy of his chats. The legacy contact won't be able to edit the post that were already there or what friends continue to post. Neither he can remove tagged images or delete the account.
There always has been a controversial issue regarding the fate of Facebook profile after the users' death. Till now the family or friends used to notify the death of their dear one and Facebook after verifying the death, "memorialized" the account. The "memorialized" account cannot be managed or edited, it can only be viewed. Facebook receives millions of requests for the access to this "memorialized" account. But this recent announcement has spellbound the users and has brought a sign of relief that they still can feel connected to their near ones after the death.
Now even you're excited to know how to nominate your 'Legacy Contact', right? It's very simple. On the right side of your Facebook page, you will find a down arrow. Click on the down arrow, there will be drop-down menu. Click on "Settings" from the drop-down. Then click "Security". At the bottom of the page you will find "Legacy Contact". Click on "Legacy Contact", there you will find a dialog box "Choose Legacy Contact". Click on it and you will be able to choose your nominee from the friendlist. You can choose the options that you want your Legacy Contact to have. There is also another option "Account Deletion". By default it is "No". You can change it to "Yes" if you want your profile to be deleted forever after your dismiss. Once you choose your Legacy Contact, Facebook will offer an option to send message to the person about their new responsibilities. You can select only one "Legacy Contact" and there will be no back up as of this new version.
"Friends or family can report a death through an electronic form at the online Facebook Help Center. Once Facebook is notified of a death and confirms it, Facebook will add the tagline "Remembering" over the user's name and notify the legacy contact. The legacy contact will not be able to log in as the person who died or view that person's private messages", Callison-Burch said.
Facebook has started this feature for 186 million users in United States only and plans to roll out to other countries in short span of time. Setting up Legacy Contact is optional. So, now you can whisper your dreams to your "Legal Contact". Your guiding light will brighten up your dark afterlife. Cheers!!