iPhones come with a plethora of touch sensitivities. For example, iPhone 7 and 7 Plus has brought the taptic feedback sensor in addition to the pressure sensor and capacitive sensor. 3D touch on iPhones is one such touch sensor that responds to the pressure applied on the screen. not everyone is accustomed to the proper way of using touch screen and some people press the buttons like physical buttons and ruin the phone in the long run. Even though the feedback comes as if the buttons are for real, but they are not. They are nothing but electronics circuitry underneath a touch sensitive screen. So users who are heavy handed and press keys with much effort, here is a way out to manage the 3D touch sensitivity for iPhone.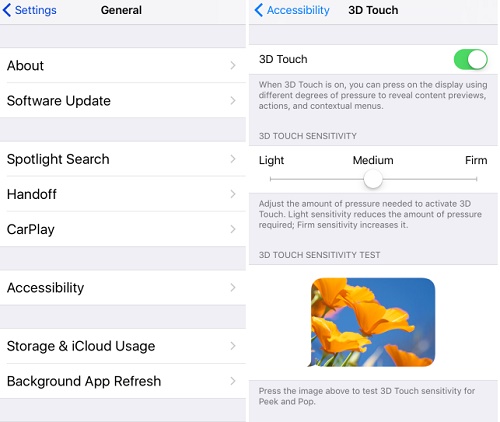 1. So the very first step is opening the Settings app.
2.Now go to General.
3. Open Accessibility and navigate to 3D Touch.
4. At the top of the screen, there is a switch that you can flip to turn the feature off. In this way you can turn off 3D touch. Remember one thing, turning 3D touch off also turns live photos off.
5. if you want to customize the 3D Touch, scroll down and find out the the 3D Touch Sensitivity slider. Below the slider is an image that you can tap to to experience the sensitivity and set it accordingly. One small tip to help you decide how to choose the correct sensitivity parameter, if you are heavy handed, then move the slider to the firmer side.