Microsoft is improving its Mail and cloud dramatically since it got its new CEO. Microsoft that had enabled the feature of importing mails from Gmail to Outlook, is now available with Yahoo! and other IMAP-based providers as well. According to the Office blog if you want to get Yahoo Mail messages sent to Outlook.com, go to the Options selection, click "Import email accounts" and select "Yahoo". Next, you simply type your Yahoo Mail address and password and then click on "Import" to get the Yahoo mails imported to your Outlook mail box.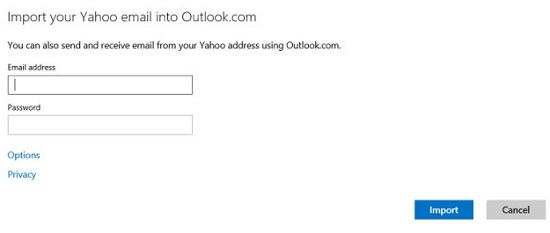 Microsoft said:
In both cases, the import happens in the background, so you can continue using Outlook.com or even sign out while it's happening. Once the import is complete, we'll send you an email to let you know. Import time will vary depending on how many emails there are to import.
Microsoft also allows users to connect their Yahoo and Microsoft accounts so that any Yahoo address contacts also show up in Outlook.com. The import process will still allow users to keep accessing their Yahoo Mail account if they wish to do so.