OnePlus has long before made a buzz on creating the "perfect smartphone". The perfection, according to OnePlus, should not only involve hardware and software domain but also the price of the phone. OnePlus One is just on the verge of release and within this span a lot of information has been revealed. The company has now opened up regarding pricing and availability. OnePlus One says, "We don't accept the excuse that you can't create a perfect phone at a disruptive price."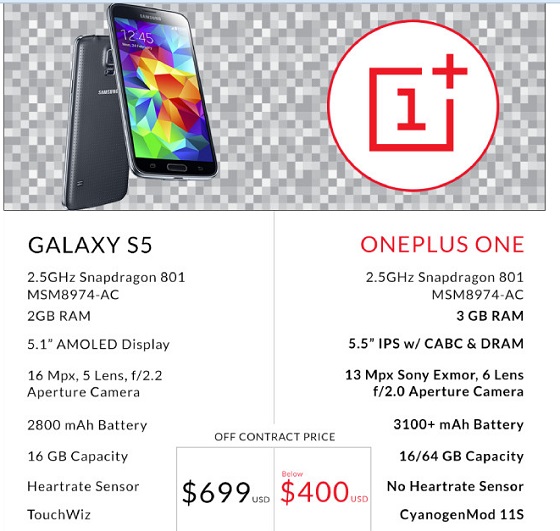 With an intention to provide best ever smartphone at a reasonable cost, OnePlus One will be released in sixteen markets :
Austria (under €350 EUR)
Belgium (under €350 EUR)
Canada (under $400 USD)
Denmark (under kr.2600 DKK)
Finland (under €350 EUR)
France (under €350 EUR)
Germany (under €350 EUR)
Hong Kong (under $3000 HKD)
Italy (under €350 EUR)
The Netherlands (under €350 EUR)
Portugal (under €350 EUR)
Sweden (under kr.3150 SEK)
Taiwan (pricing not yet announced)
United Kingdom (under £290 GBP)
United States (under $400 USD)
We have got ample information regarding the specifications but not the exact pricing. OnePlus One will sport 2.5GHz Snapdragon 801 SoC, 3100mAh battery, larger 5.5-inch display and 3GB of RAM. Howwver we are waiting for getting glimpse of the wonder phone. @evleaks have managed to give us the pictures of several unassembled pieces and claims to be the "perfect smartphone".
OnePlus has already created excitement with its attractive quote that says "committed to creating the best smartphone ever". So it's now a matter of time to witness the reality.