Screen recording is used massively for different purposes nowadays. Gamers who have YouTube channels regularly use screen recording for showing how to crack a hard level, or adumbrate a complex strategy in the game. You can use screen recording to record anything you are doing on your Windows PC. If you love to paint on graphics using Photoshop or Paint 3D and you want to record the entire painting step by step, then you can record the screen. So, there are several instances in which screen recording finds its importance. There are several screen recording software tools available in the market for Windows 10 PC. You can choose anyone you want and try it. In this article, we are writing a review on Joyoshare Screen Recorder for Windows.
Joyoshare Screen recorder for Windows is a beautifully crafted software that has has huge flexibility and compatibility. To start with, the software has a free as well as a paid version. So the good thing is that you can first test and then purchase it. Next, coming to compatibility, Joyoshare screen recorder tool is compatible with Windows XP, 7, 8.1 and Windows 10. Even though many such software applications have similar features as that of the Joyoshare screen recorder, yet they often lag behind due to lack of compatibility towards OS versions.
Record and save any screen video into any format and device
The prominent feature of this screen recorder for Windows is that it is capable of capturing any audio or video content running on the screen in high quality. It can perform a plethora of functions such as taking screenshots, recording any music from any video playing on the desktop, recording a particular area from the entire screen, screen record games, online movies, taking screencasts, videos and any audio visual content running on the desktop.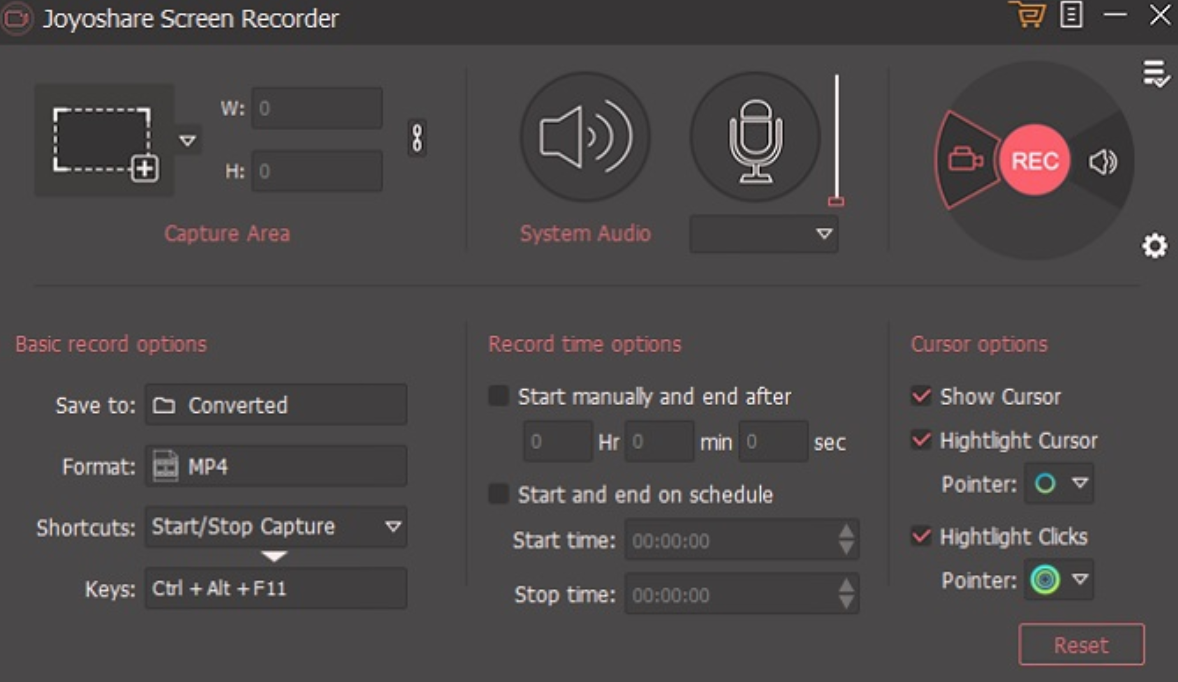 You will love to find that it is possible to record any screen video into any format and device. The range of desktop activities is humongous. Joyoshare Screen recorder enables you to record live chats, webinars, podcasts, video games. Even you can record webcam chats and Skype calls. The software supports a number of file types, comprising of HD MP4, AVI, FLV, SWF, WMV, MKV, MOV, and some commonly used formats like that for iPhone, Android, Xbox, smart TV, etc.You can edit videos by highlighting cursor movements and clicks. The recorded video quality is precise and lossless and you can share them with other for free.
Independent Audio Recorder For Recording Sound Into Any Format
We have already mentioned the excellence of Joyoshare screen recorder as a video recording tool. Now you will be impressed by the smart audio recording technology. The screen recorder tool records system sound, microphone voice, online radio, etc. The types of audio files to which a recorded sound can be converted includes  MP3, AAC, WAV, FLAC, M4A and M4B formats.
Record Screen Activity with Flexible settings
Joyoshare Screen Recorder facilitates users to create scheduled recording task. All you need to do is to initiate the start and stop timestamp and it is done. Suppose, you are creating a technical video for a troubleshooting step or you want to show a certain output for a computer programming, it is often seen that the output is generated after several hours. In that case, you can deploy the scheduled recording task. With this, you do not need to sit for hours in front of the computer. You can also change the aspect ratio, capture area and audio of the recorded media file.
The price of the software is $29.95 but it is totally worth it. We recommend users to give this software a try.