Forgot your Windows 10 administrator password? Looking for a way to reset or bypass the login? If you call Microsoft technical support, they would tell you to use a password reset disk. Unfortunately, by the time you realize that you can create a password reset disk, it's normally too late. So here we're going to show you easy ways to reset or recover forgotten Windows 10 password with CD/USB.
Ophcrack and PCUnlocker are the most popular Windows password recovery tools for Windows 10 / 8 / 7 / Vista / XP. Ophcrack allows you to recover a lost Windows password by trying brute-force attack, while PCUnlocker provides the means for you to remove a forgotten password. It's possible that Ophcrack will not found your password, so it's good to have PCUnlocker as a backup.
Option 1: Recover Windows 10
Password with Ophcrack
Ophcrack is one of the more effective password crackers that that uses rainbow tables to recover Windows login passwords from password hashes. Because the hashes are irreversible, there is no way to guarantee that this tool could come up with your password. If your Windows password is not really complicated, you can try Ophcrack, maybe it works, let alone it's free for all users.
Step #1. Download the Ophcrack ISO file (about 650MB) from its project page, and burn it to a CD using any burning software.
Step #2. In order to boot your computer from the CD that contains Ophcrack, you need to change the boot sequence and configure your BIOS to boot from CD first.
Step #3. After booting to CD, use the arrow keys to select the "Ophcrack Graphic mode – automatic" option and hit Enter.
Step #4. Just wait for the CD to load the Linux bootable environment. Eventually Ophcrack will start automatically and it begins to crack the NT/LM password hashes extracted from your Windows 10 system.
Step #5. When your password is discovered, it will be shown under the "NT Pwd" column. Write down the password when it comes up.
Option 2: Reset Windows 10
Password with PCUnlocker
Lost your Windows 10 password and have no luck with Ophcrack? Locked out and unable to bypass Microsoft account login on your PC? PCUnlocker can help you reset forgotten Windows 10 password of any local admin and Microsoft account. No matter how strong your password is, you can regain access to Windows account in minutes. Let's check how it works!
Step #1. Download PCUnlocker (zip archive) from your current PC. Right-click on the download file and select "Extract All". You will see the ISO file in the extracted files.
Step #2. Insert a blank CD or USB flash drive, you can then use a program like ISO2Disc to make a bootable CD or USB drive from PCUnlocker ISO file.
Step #3. Go ahead and plug in your ready CD/USB drive to the computer that you need to reset Windows 10 password on. Change the boot order in BIOS and let your PC to boot from CD/USB instead of hard drive.
Step #4. Select the account you're locked out of and then click the Reset Password button. When the Change Password dialog opens, type a new password for your account and click OK.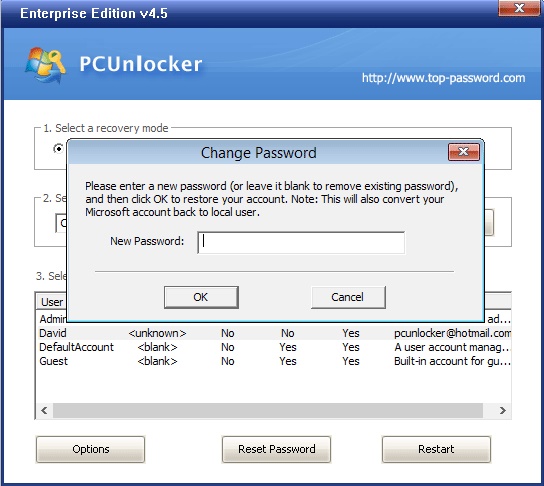 Step #5. Restart your computer and remove CD/USB. The Windows account that you were trying to log into should now accept the new password you set.
Conclusion
Both options require that you create a boot CD/USB with Ophcrack or PCUnlocker on it. Therefore, even if you can still access your PC now, you'd better create a CD/USB in advance in case you forgot Windows 10 password to the only computer lying around.