Another patent troll has been vanquished and it has saved us a lot of our money. For those not knowing what a Patent Troll is, well basically, it is a company which buys or acquires patents and levies on it heavy licensing fees or files lawsuits for breaching of rules. All this is done for business purpose in a bid to earn more money and not done for a cause of protecting innovation. The people who set up such companies are driven more by greed than by a good cause. They can be termed similar to that of legal highway robbers.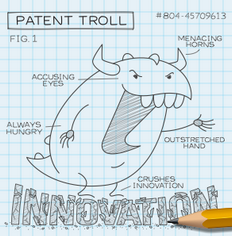 Example of such a patent troll is Rotatable Technologies. Way back in 2013, this company sued Rackspace. Rotatable Technologies owns a patent and is not known for development or innovation. According to them, the patent covers the screen rotation technology which is there in our smartphones. Since Rackspace genuinely has a mobile cloud app which can be rotated, Rotatable Technologies in a bid to earn some money from the hosting giant bought a patent and sued the former. But it could not succeed.
Not only Rackspace, Rotatable Technologies sued biggies like Apple, Netflix, Electronic Arts, Target and Whole Foods Market. Rackspace was levied a fine of $75000 to which they did not succumb but fought against the Patent Troll and won the case. Rotatable Technologies' patent was deemed to be illegal and as a result the company vanquished.
After the defeat Rotatable even approached Rackspace and offered to withdraw its claim and make a settlement. Rackspace remained firm in its decision and went further in challenging the patent. Thankfully no company or person who wants to make its app rotatable does not need to pay.
According to reports, in a lawsuit patent trolls lose 88 percent of the time and thus fighting against patent trolls is encouraged thereby ending their epidemic spread.
Source: Rackspace