Lead generation and drip campaigns are two important aspects of email marketing. Lead generation is the process of initiating interest in a product or service among its consumers. Sending email campaigns to unverified email addresses might be ruining to your sender's reputation and the campaign results won't be prosperous. Email tracking is another important process you cannot avoid.
To deal with this tedious job, the Snov.io software application is here with a complete package of applications that can help you become the best in email marketing. So we've decided to review the salient features of the Snov.io Email Verifier and Email Tracker for you to not spend time in vain searching for the best platform.
How to start using Snov.io
1. First, sign up to create an account with Snov.io. You can do it using your Google account.
2. The web application opens and the user interface looks like the image below. Below the Prospect tab, you can import your prospects list to get them verified before initiating any campaign, upload a list of preferable domains, get individual emails, etc.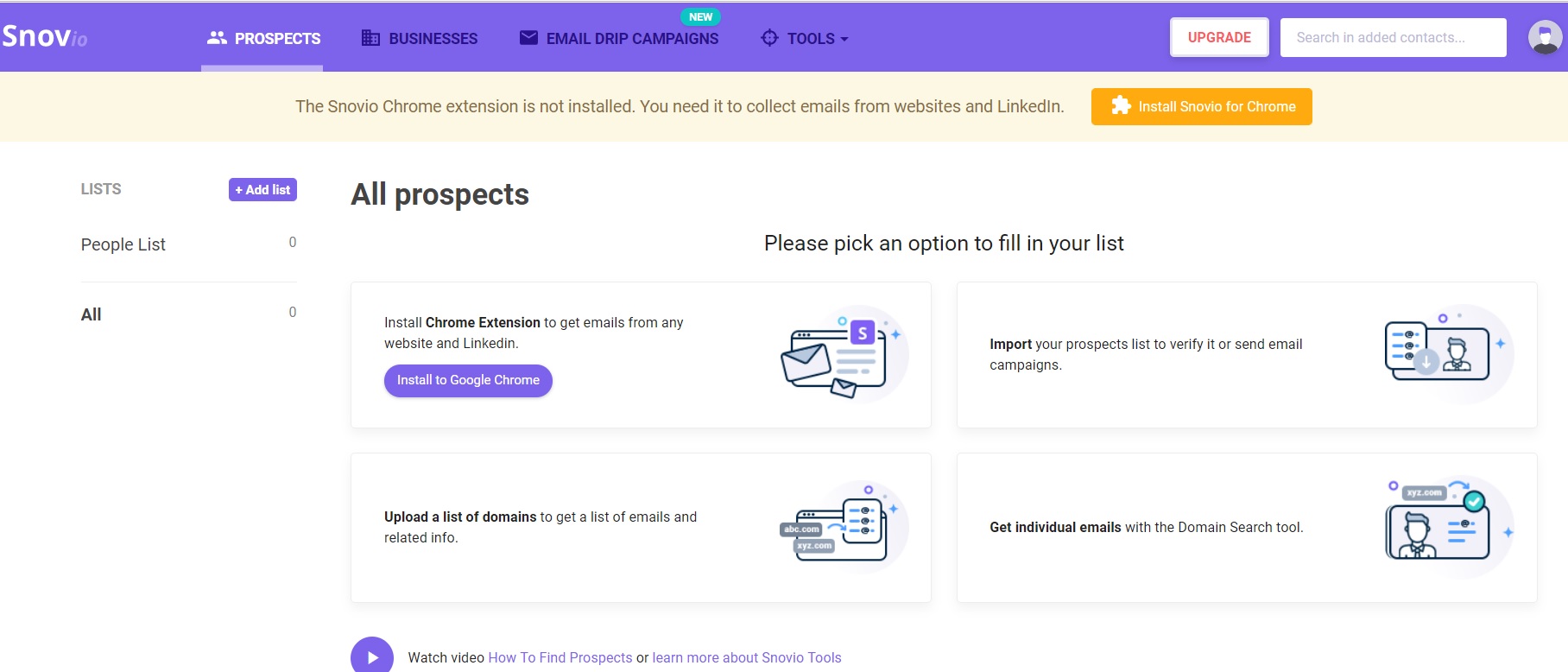 3. The Businesses tab helps you create a company list. You can use the Snov.io Company search tool or use LinkedIn to have a list of companies and their email addresses.
4. The third option is the Email Drip Campaigns and the fourth tab is Tools. Click on the drop drop-down beside Tools to use the tool you need.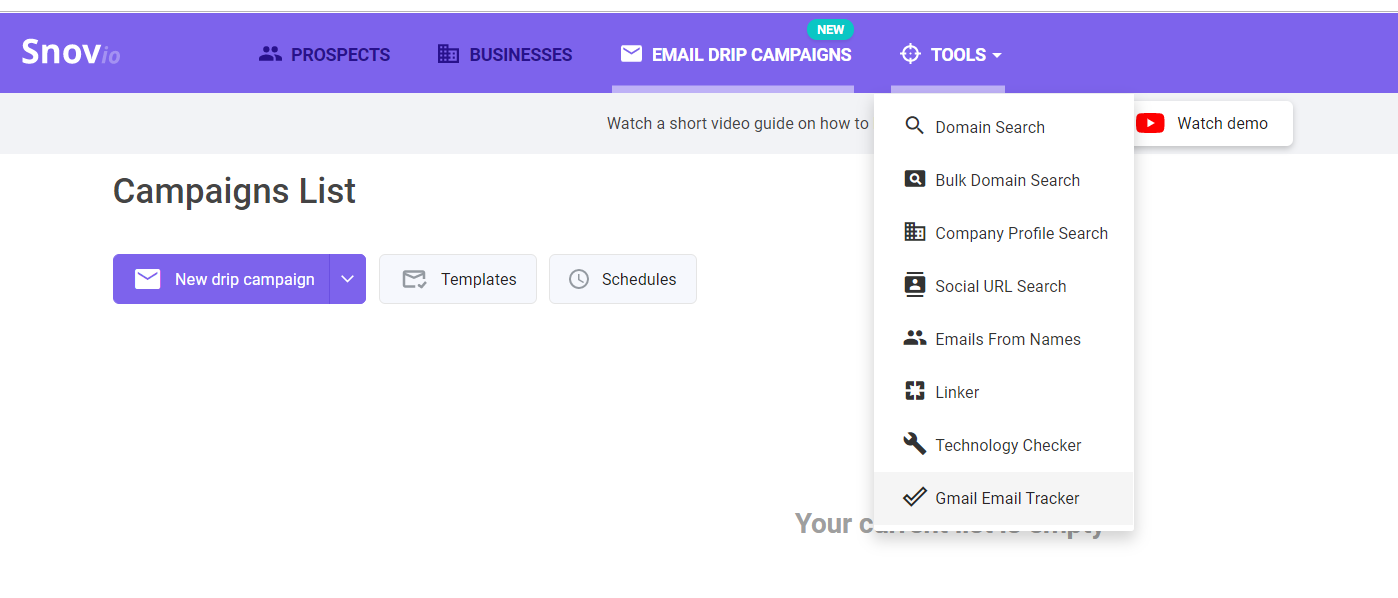 Email Checker features
1. Snov.io has an amazing email verifier tool. When you are sending emails in bulk, it is not possible to know which emails are valid and which ones are not. Emails sent to invalid email IDs bounce back and if the bounce rate gets higher, the sender account may get suspended. Snov.io follows a well-structured algorithm for email verification. First, they run a process that scrutinizes if every recipient mail ID complies with the standard email rules. Next, the application checks the validity of the domain and the address associated with it. After that, Snov.io processes its response to determine if the email address status and valid with exceptional accuracy.
2. Snov.io allows you to incorporate its API into your own software.
3. Snov.io Email Verifier works fast; it is hassle-free and efficient.
4. It has robust and flexible export options. It is capable of exporting full prospect profiles or emails based on status, CSV, XLSX, or Google Sheets formats. You can choose to export prospect data from location and social media accounts.
5. You can initiate and accomplish drip campaigns with the help of Snov.io. The easy-to-use user interface helps you to easily create an email list for email drip campaigns, upload the prospect lists, find emails on web, apply email signatures, tweak the settings according to your requirement and finally launch the campaign.
Email Tracker
In the web app, click on Gmail Tracker. You will be redirected to the Chrome Webstore for downloading their Chrome extension. Add the extension to Chrome and continue. Click the Activate button.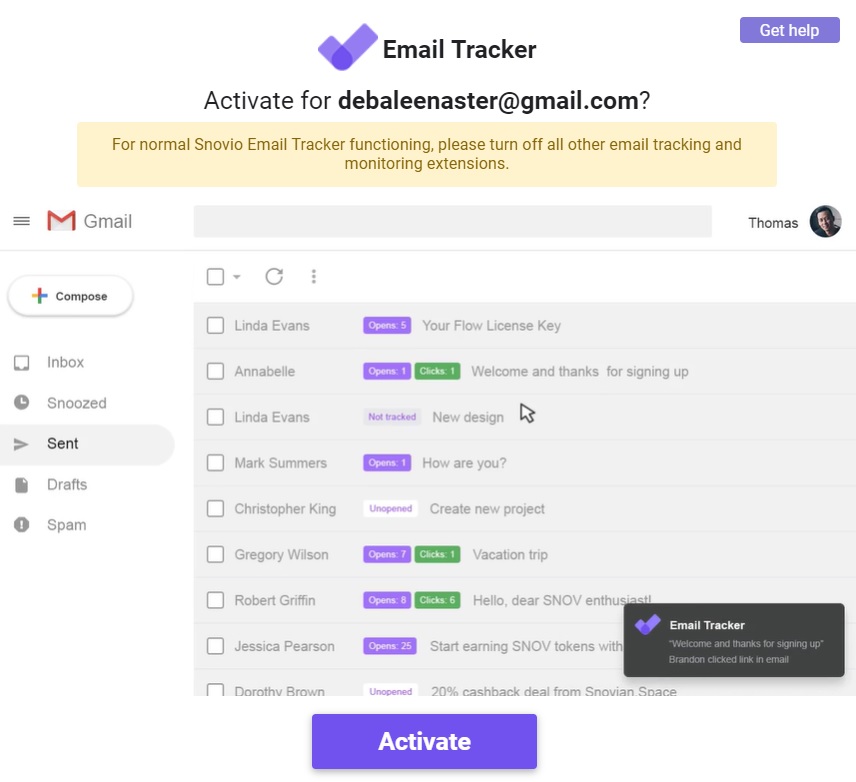 The email tracker icon will appear in your Gmail. Click on it and check the tutorial for understanding it better.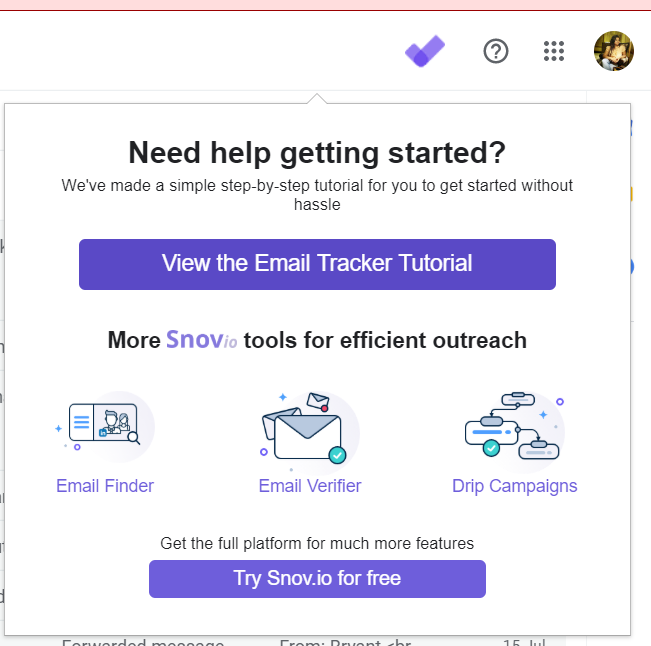 The extension provides details on opens and clicks by means of live push notifications, lets you delay the email sending, sends you notifications if the email was not opened within the pre-defined time, and others.
Wrapping up
Snov.io is an exceptional platform that provides lots of tools for email marketers and other professionals. Use their Email Checker to be sure the email addresses you've found are OK and you can safely send emails to them. Install the Gmail Tracker to always be aware of how well your emails perform and whether the time to send follow-up has already come.
Good luck to you!