Curved displays in electronic gadgets are presently in vogue and in high demand. Back in July 2014, Samsung launched curved screen of size 105-inch 4K TV for a whopping amount of $129,000. This amount is surely for few people and the large number of people who aspire but cannot afford were left in eager wait. Finally the wait is over and Samsung has brought a modest version of curved display with different specifications. The name of the display is S27D590C.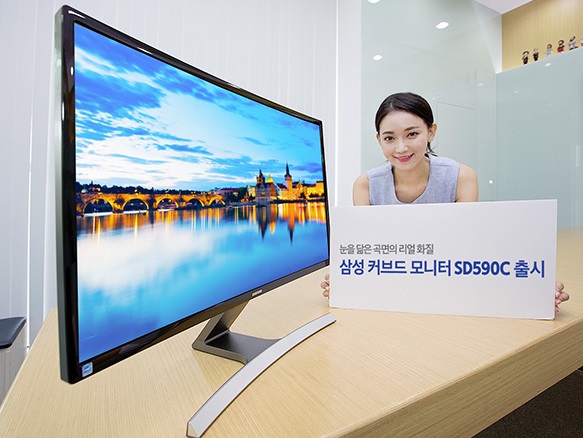 Check out the specifications:
It will have a Full HD (1920x1080px) resolution with 16:9 aspect ratio. Other important features include 4ms response time, brightness of 350cd/m2, 3000:1 contrast ratio, twin integrated 4W speakers , VESA wall mount support and a super 'Game mode' function. Phil Gaut, Samsung UK said that S27D590C offers "a truly immersive and unforgettable experience." He added that the display "takes movie watching and gaming to new heights, from the monitor's unique curved screen and comprehensive entertainment features, to the incredible picture quality and the impressive sleek design."
The device is certified for quality and performance from US-based companies like Underwriters Laboratories and Germany's TUV Rheinland. The monitor will be priced at 469,000 Korean won which approximates to $450 USD.
Source: SAMMY Hub