Samsung recently unveiled its two flagship devices, the Galaxy S6 Edge+ and Galaxy Note 5 and also announced that the company will launch its own payment service Samsung Pay. After that, it's now that Samsung has brought Samsung Pay in broad daylight. For now, Samsung Pay service is available in its Beta version by invites only. That said, the service is constrained within US only and will roll out to other locations as well.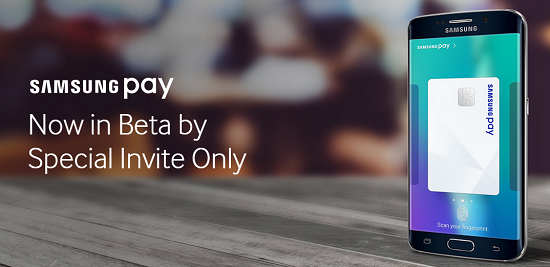 Samsung has already given a step by step registration process. If you meet the eligibility criteria as given by Samsung, you are eligible to receive invited from Samsung itself. Before you register, check out the requirements in a nutshell:
1. You must own any of among Galaxy S6, Galaxy S6 edge, Galaxy S6 edge+ or Galaxy Note 5.
2. Apart from the model requirements, there is carrier constraint also. You must have any one among the above mentioned phones with any of AT&T, Sprint, T Mobile and U.S Cellular.
3. You should have an active Samsung Account.
4. You must have a qualifying card from Bank of America MasterCard and Visa, or U.S. Bank Visa. Qualifying Cards include Bank of America consumer credit, debit cards, small business debit cards (owner card only),Merrill Lynch consumer credit cards, U.S. Trust consumer credit, debit cards
U.S. Bank consumer or small business Visa credit and debit cards, Elan Financial consumer or small business Visa credit card.
Now that you know the requirement criteria, you can check the Samsung website and register for preorder.
Source:Samsung