Artifical Intelligence is the blooming technology that most of the leading tech giants are implementing through one or more services. Facebook till now had no such AI service in Facebook or any of its adjacent applications. Finally Facebook announced today that it is currently testing on an artificially intelligent service inside Messenger app, known as M. M will be your digital assistant that can complete several tasks on behalf of you. Facebook M is powered by Artifical Intelligence, which means a new member in the current queue led by Cortana, Siri and Google Now.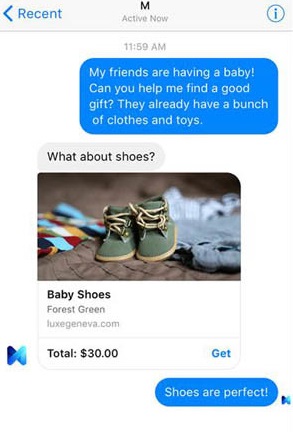 What can Facebook M do? How is it different from other AI digital assistants? Unlike other AI powered digital assistants in the market, it can accomplish tasks completely on your behalf. For example, if you want to gift your brother something, you can ask M for assistance. Facebook Messenger M will not only provide you suggestions of gifts but also prices, availability and even deliver it to your brother, only if you consent. Likewise, it can book restaurants, hotels, trips and so on. This is quite unusual as other AI powered assistants have limited its functionality to only answers and suggestions.
According to David Marcus of Facebook, " This is early in the journey to build M into an at-scale service. But it's an exciting step towards enabling people on Messenger to get things done across a variety of things, so they can get more time to focus on what's important in their lives."
The purpose of M is still ambiguous and according to reports, initial testing will be limited among few hundred testers in the Bay Area near its Menlo Park headquarters.