In the near future you will not need to fret over the growing number of cards in your wallet. Many companies are trying to trap the huge market potential of Hi-tech cards that will save your loyalty, gift and credit cards. Ashutosh Dhodapkar has come up with a similar, but a cheaper prototype card called Swyp (Coin costs $100, and Plastc is $150).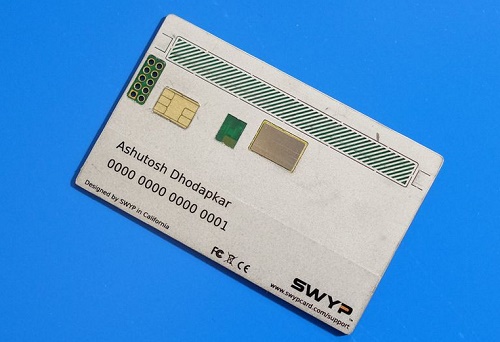 Swyp is made possible after a year and a half of efforts, and a lot more will be needed for the final version. This card has a nicely designed small black and white screen in the front. This screen is used for checking which card you have selected along with the card's expiry date. In the future versions it will also be able to show the bar codes of the loyalty cards. The card is made up of a metal alloy and is just 0.03in thin, besides being extremely thin and light it looks very stylish. Swyp comes up with 3 clickable buttons for browsing the stored cards and other functions. It has a magnetic strip at the back which changes according the card we are using.
Swyp comes with a magnetic reader that can be attached to your smartphone's headphone jack and reads your card's details. These details are then transferred to the Swyp. It also has inbuilt security features that will lock the card if it goes 6 feet away from your mobile, which is always connected to it via Bluetooth, and will need a PIN to unlock it. There is an option to disable this feature, in case you have to hand it over to a salesperson. Moreover the cryptic card details make it hard to steal your information.
Swyp unlike the competitor Coin (can be used only till battery lasts), has a rechargeable battery which is rated to work for 2 years on a single recharge. It lacks a few feature like touchscreen, NFC and wireless charging but comes at an affordable price.
You can pre-order the card for just $49, which will be available by fall 2015.