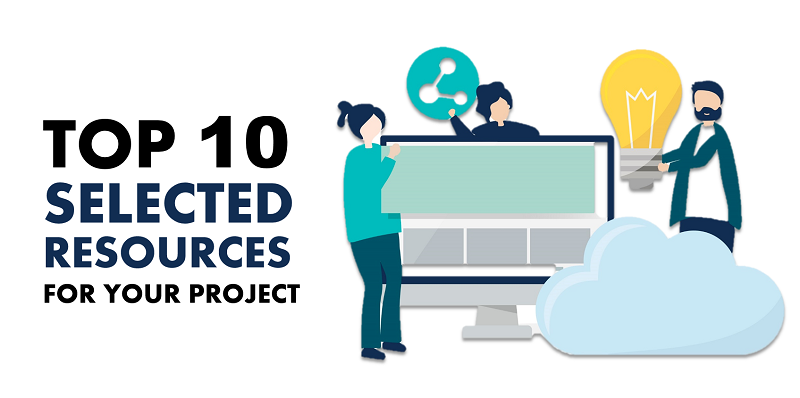 Are you looking for resources to help you build your website or optimize your live project? Here's what you need to know.
The thought of developing a website or doing anything related to web development can be terrifying for some people, especially beginners because things involved in it are often very complicated, as you must have appropriate knowledge of all the subjects that you'll be working on.
Not only beginners, even businesses that already have a web app – it is very challenging for them to optimize and keep up with the site on a regular basis.
Every business face bugs, compatibility, and functionality issues at different stages of their web project, and optimizing it according to business standards become more and more complicated as the business grows, which force companies to look for reliable resources for the project.
Allocating selected resources for your project is a bit difficult because searching online provide you multiple links with multiple resources, but only a few of them are valuable for you.
But don't worry! We have got you covered.
Here is a list of top 10+ selected resources that will help you do the tasks related to your project yourself without outsourcing a web developer.
LambdaTest is an online selenium grid that allows you to perform cross browser testing across multiple browsers, OS, and devices for your web app. You can choose the language in which your application is built and select the browsers across which you want to test browser compatibility for your web app.
Some extensive features of LambdaTest that make it stand out from its competitors are live recording, edit, and save screenshots of the testing process. Meanwhile, you can also interact with your team regarding any issues in the app during the testing process.
Most importantly, it is fully automated, which means you don't have to write different test codes to test your web across multiple browsers, and it's free to use without any cost.
Dreamweaver
One of the top-rated resources that have been around the corner since the inception of web development – Dreamweaver, is a featureful web design and web building software. It is recognized as the most powerful software in the web design and development industry.
What makes Dreamweaver on top of the list is its slick and intuitive platform that allows users to design and build a web app from scratch. Also, the code editor and live view feature provides a standard environment for beginners and professionals to operate their website more effectively.
Even if you just want to edit the web pages, Dreamweaver is the perfect choice for it because it allows you to connect with servers, modify the content, download files on a local drive, and then upload it back to the server.
Dreamweaver can be availed as a part of Adobe Creative Cloud package that will cost you $49.99/month, or you can purchase it separately for $19.99/month.
Ultimatumtheme.com
If you've ever tried to build a WordPress theme, you might know the effort and time it takes to do so, especially if you're not an expert in HTML and CSS. But, with Ultimatum WordPress Theme builder, you don't have to worry about creating WordPress themes as it allows you to create your own themes and then export them quickly with drag-and-drop technique.
It also takes care theme coding while ensuring that all functions of your web app work properly. Using the template creator feature, you can create your own custom layout and add structure to the theme. The Ultimatum theme builder gives you full control over settings to modify your web pages according to your requirements.
Some other extensive features of Ultimatum are custom post types, custom widgets, responsive design, ten menu script, and shortcodes.
WebFlow
It is another incredible web design tool that is responsive, easy-to-use, and have an intuitive interface. Whether you're a designer, web entrepreneur, creative professional, or a web newbie – you can majorly benefit from WebFlow for creating a website will look good across all devices.
Apart from being a web design tool, WebFlow is also known as a CMS and web hosting platform, which gives you the advantage of doing everything under one roof, rather than wandering at different places to host your website.
Individuals who don't have any knowledge of coding can also use WebFlow due to its user-friendly interface.
Instapage
If you're tired of creating multiple WordPress landing pages for your site, then Instapage can help you create all types of landing pages. It is a new cloud-based landing page creator that gives users the freedom to create multiple landing pages like sales pages, mobile app download pages, webinar sign-up pages, social media landing pages, etc.
To create a landing page with Instapage, you can access more than 80 templates to start with, and you can modify these templates according to your requirements. Whether you want to add or remove a section, Instapage makes it easy for you to change everything.
It is ideal for individuals who are just beginning with landing pages; it works as a blank canvas for them.
Adobe Muse
If you're more of a front end/graphic designer and prefer using Adobe Photoshop for web designing, then you'll admire Adobe Muse – it is an outstanding tool that helps you in creating websites with stunning looks. You can design as well as build a site at the same time with Adobe Muse, and that too without any coding skills.
Adobe Muse is not just like other drag-&-drop web builder platforms; it is entirely different in terms of web building. It is more focused towards graphics, and specially designed for frontend designers who don't have the programming skills to bring their ideas to life.
You can avail Adobe Muse with Adobe Creative Cloud Subscription for $49.99/month, or you can purchase it separately for $19.99/month.
Macaw
Macaw is almost similar to Adobe Muse, as it is also targeted towards designers who don't have good coding skills; it allows users to build beautiful websites of their own without getting into any coding mess. One thing that Macaw different than Adobe Muse is that it has a more simple and most intuitive user-interface as compared to Muse.
Even if you're not familiar with Macaw user interface, you can watch some videos over the internet, and you'll get a strong grip of the platform to build a fully responsive and well-designed web page template within one hour.
With Macaw, you can view every process in real-time while building a web page, which makes it easier for you to develop your website. Also, Macaw is absolutely free to download; you don't have to pay any subscription cost to use it.
Zabbix
To keep your web app at the highest performance, it needs to be monitored and optimized regularly. But, doing it manually often requires a lot of time and developers, so there are many tools available that can be used for monitoring; Zabbix is one among those tools.
It is an open-source, enterprise-level monitoring tool that is used by most recognized companies like HP, Oracle, Amazon, and IBM. Being an open-source platform, it is absolutely free to use. The intuitive web interface of Zabbix makes it easy for the user to set up and configure their web pages.
Also, it provides performance graphs that are helpful for smaller teams with less need for customization, or groups that are dedicated to develop customized visualizations. To use Zabbix, you can take help from community-created training materials and free webinars.
Lightshot
We all want to access free tools that are more beneficial than the paid resources; Lightshot is one among those free tools that make the designer's life easy. It is a screenshot tool available for both Mac and Windows operating system. It can be very helpful when you're working in collaboration with your team, as it allows you to share work details with others, while your work is still in the process.
This software is very simple to use and easily integrates with your operating system. Also, activating the tool on your system is very easy; you can use the keyboard shortcut (Print Screen on Win or Cmd + Shift + 9 on Mac) to activate the tool.
After activating the tool, you can highlight the area that you want to screenshot, and then save it on your local drive or share it with others. You can add arrows, text, and annotations to the screenshot to explain to others what you're sending.
Marvel
If you're not a coder at all, and still wants to bring your digital ideas to life, then Marvel is a great resource to start with. It offers a code-free prototyping tool to fill the gaps in web designing. It can transform sketches and images into interactive prototypes, that later function as a real website.
But, there is one drawback to this software – you'll have to connect your Dropbox account and upload the required files to it to use Marvel. After connecting to Dropbox, it will automatically collect all the data from Dropbox that is essential to create your website.
It is enriched with some great features like create transitions between links/pages, a quick preview of pages in browsers, testing tools for iOS, integration with Slack, and many more. You can use Marvel for free, but that will give you access to work on only two projects.
Conclusion
From planning to designing, there are many factors involved in a web app development, and even after building a website, you'll have to achieve consistent performance for your website to keep it on the top. But, maintaining consistency and performance is not that easy manually, especially if you don't have the required skills. So, here, we mentioned some selected resources that you can use for your project. Hope, it will help you build your dream website while maintaining a great performance over the internet.