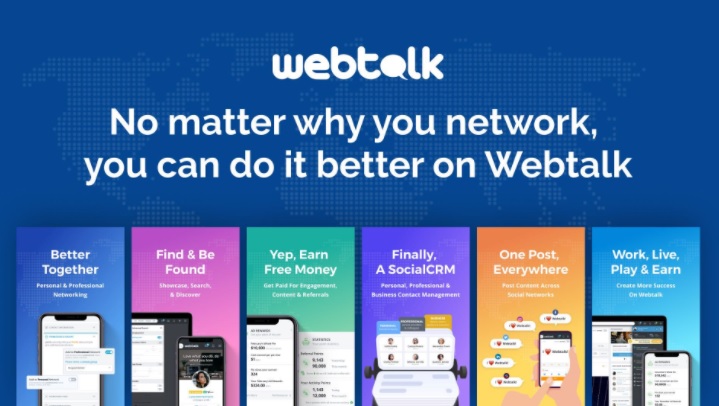 People today are extremely obsessed with social media. In fact, some people are entirely into social media, you can say all day long. Of course, an addict would spend a whole lot of time doing what they love. The good thing is, you can grab the opportunities they bring to you and work it as a side hustle to make money.
Webtalk as of now is in the ripe stage and the best time to take advantage of your online presence on it. People have actually started making real cash from it and if you want to follow the path, this article is for you. Let us get into the details.
You can start influencing on the platform and get paid amazingly.
Talking of the influencing activity, you can use Webtalk to your advantage to build a career and business. In this way, you will be able to make money from the activities.
You can also monetize your audience by introducing ads and promotions into your content on the platform. As your content starts gaining engagement it also generates advertising revenue share with Webtalk's ad rewards program. This way, you get paid 2X.
Alternatively, you can serve as an affiliate for Webtalk and earn extra commissions for a long time. While other channels allow you only a one time earning, with this platform you earn forever. Yes, you earn even when your follower or friend is not purchasing anything.
Your referrals using Webtalk will pay you. The revenue generated from the ads pays you good. You also get a 10% commission on whatever your referrals purchase. More revenue schemes for Webtalk Travel, Webtalk Marketplace, Webtalk Games, and Webtalk Talent Solutions are expected to be added soon. And thus, you have more potential of earning on the platform.
Webtalk is basically a platform where you showcase your talent to your audience. You can manage your personal, professional, and business relationships in one place. There is a good chance of your skillsbeing discovered on this platform. This opens up to more opportunities, and you can grow your businesses while building and maintaining all of your relationships. Along with the general ad revenue, you can go for PRO premium features which ideal for professionals who can connect toa larger audience.
Webtalk is a great way to showcase your talent and at the same time make money from it. Why do something for free when you are talented enough? You can explore the page and look through options to grow on the platform. You learn as you grow; this is a fact for people growing businesses on social media. At this point, you can make the most of the platform to grow. Your online presence will help you make money, and you should totally start planning on it.