WhatsApp has finally rolled out the Delete for Everyone feature across all major platforms. Initially, the Delete for Everyone feature was available to selecr users. This is one of the biggest changes made in WhatsApp after the blue tick feature.
Now let's have a look at the feature. Typos are very common while typing in mobile. Sometimes we type some embararring words or send the wrong message to the wrong recipient. WhatsApp has introduced a great way to spare users from this embarrassment. The Facebook owned firm has now updated the delete option and added two options – i. Delete for Me, ii. Delete for Everyone.
The Delete for Me option is the normal delete option that deletes the message in your chat box. This delete option will not notify or affect the recipient. This is the delete option that you have been accustomed and have been using. Now coming to the new option, Delete for everyone. This option not only deleted the message sennt by you from your chat box but also from the chatbox of the recipient/s. In case of a WhatsApp group, the feature will delete the message from the chatbox of each of the members of the group. But once the message is deleted, you will see the message "You deleted this message". Remember one thing. The message can be deleted for everyone only within 7 minutes of posting. After the 7 minutes has lapsed, you will not be able to delete the message for everyone. But you can normally delete it for yourself. Here is the tutorial showing how to delete a message for everyone in WhatsApp.
Steps to Delete a Message for Everyone in WhatsApp
1. Select the text that you want to delete.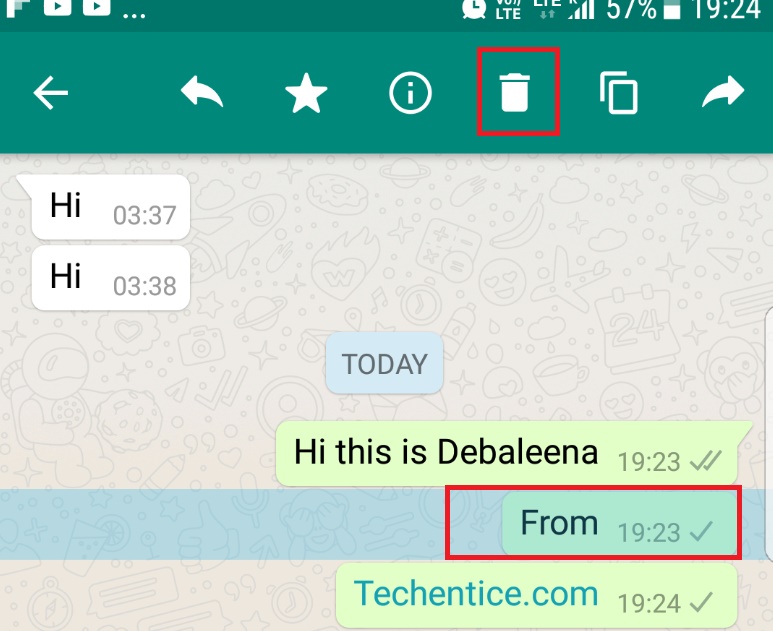 2. Now select Delete for Everyone, if you want to remove the message for every recipient.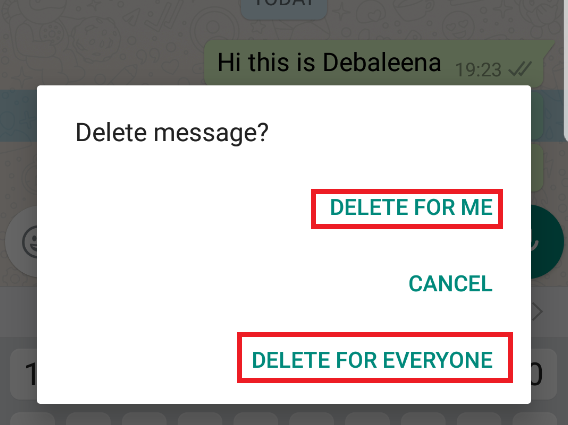 3. Next, you will get the warning messgage "Messages you selected will be deleted for everyone on the latest version of WhatsApp in this chat". Click OK to continue.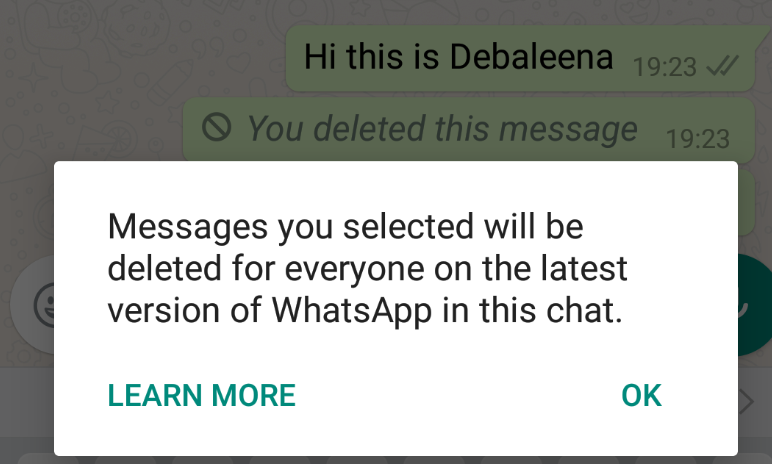 4. You are done. You will get the message "you deleted this message".