This era is an era of social media. Blogging and video blogging are important parts of social media, where often bloggers communicate with its audience through videos. Since, videos are the main mode of communication. They need to be professional, high quality and interactive. If you are a technology blogger, you must have a software handy with you, that can record screen, capturing video clips, editing them, etc. For any demonstration video, trouble-shooter or how-to video tutorials, Wondershare DemoCreator will cater to all these requirements. In this article, we shall see the salient features of DemoCreator application, its plus and minus points, and how we can use it for video capture and editing. Let's read on!
Wondershare DemoCreator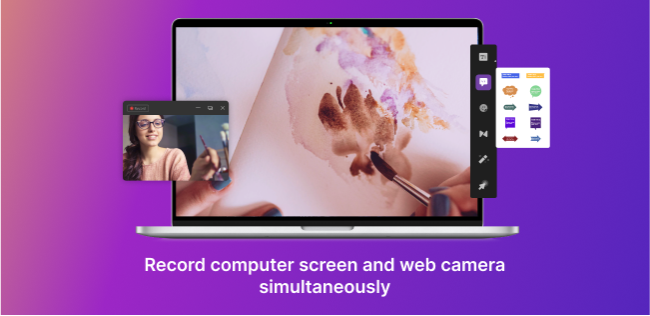 This application is a one stop destination for all sorts of demonstration videos, tutorials, vlogs, etc. There are many interesting features, that a user can use to edit his/her videos. With DemoCreator, you can create amazing video tutorials, game clips, presentation videos and many more. Let's have a sneak peek at the promising features of DemoCreator.
Promising Features of Wondershare DemoCreator:
I. Platform Friendly And User Friendly Application For Screen Recording
For any application to be successful in its utility, the two main pillars are platform friendliness and user friendliness. DemoCreator suffices in these two categories too. It is compatible to all new and old existing versions of Windows, such as Windows 7, 8, 10, etc. Now, coming to the second aspect, DemoCreator is easy to download, easy to install and use. If you are a new user, you can use the application without any difficulty. All the options, menu and workspace are well defined and easy to understand. For example, if you are recording your screen with the help of DemoCreator, as soon as you stop recording, the application will unfold the workspace for you automatically, so that you can start editing without wasting time on searching for the workspace. In a sense, the application is intuitive as well.
You can check how simple and flawless the application is, from our hands-on experience of using it for screen recording.
Download Democreator app depending on your platform. Installation will take a minute or two. After the application launches, click on Get Started. If you want to select Capture, you will be taken directly to the capture page. Video Editor option will open the various editing options.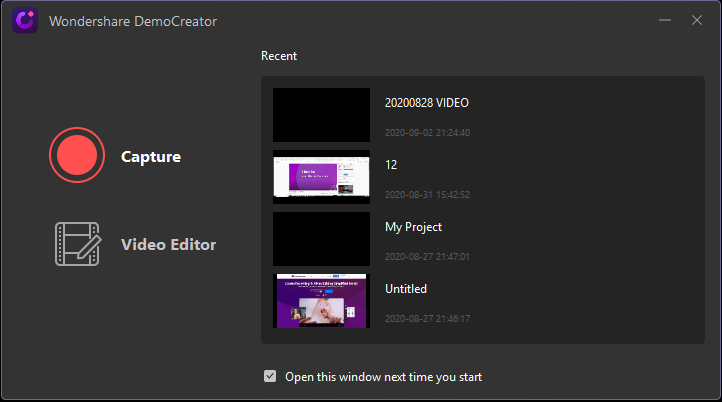 Next, the screen capture window will open, where you can customize your requirements. For screen, you will get to choose screen capture size, frame rate.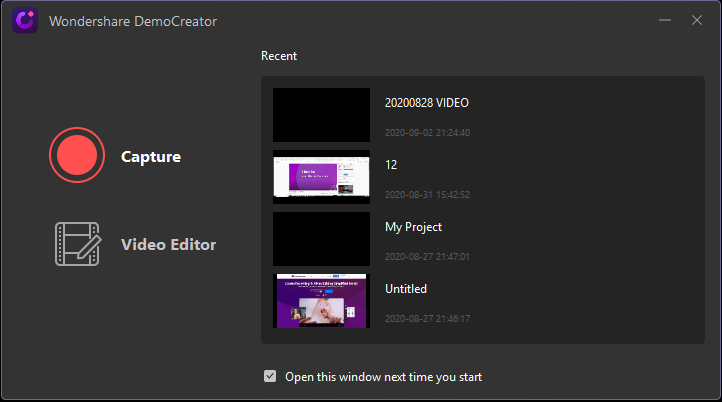 For camera, you can choose the type of camera, resolution, frame rate, etc. Customize the settings for screen, audio and video, etc. and then hit the Capture button.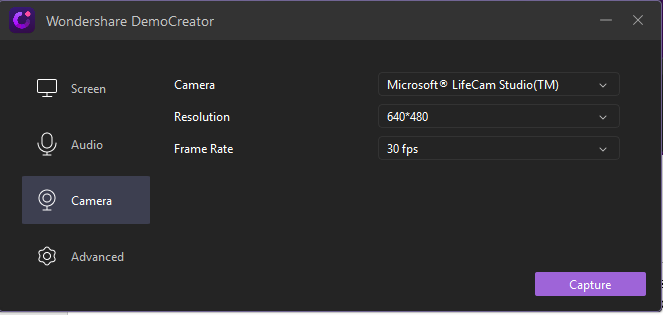 The advanced feature will provide you the freedom to customize shortcut keys, recorded video save location, encode, etc.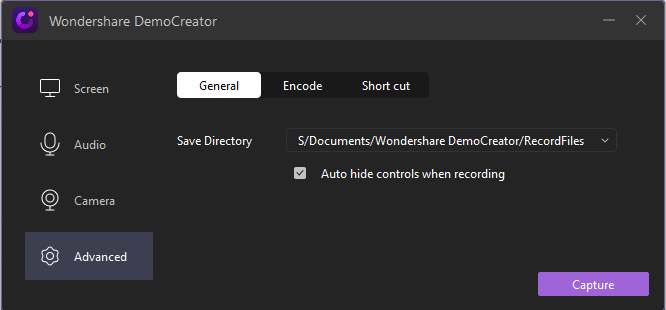 II. Supports 50 Types of Input File Formats:
DemoCreator supports a plethora of input file formats, including video formats, such as, AVI, DV, FLV, MKV, MP4, M4V, 3GP, MOV, MPG, MPEG, VOB, DAT, etc. As for Audio Formats, it supports APE, AIF, AIFF, FLAC, APE, AU, AMR, OGG, WAV, MKA, M4V, M4A, MP2, MP3, RA, WMA, etc. It supports almost all types of photo formats. The output formats are highly compatible, platform independent formats, such as, MP4, WMV, AVI, MOV, MP3, GIF etc.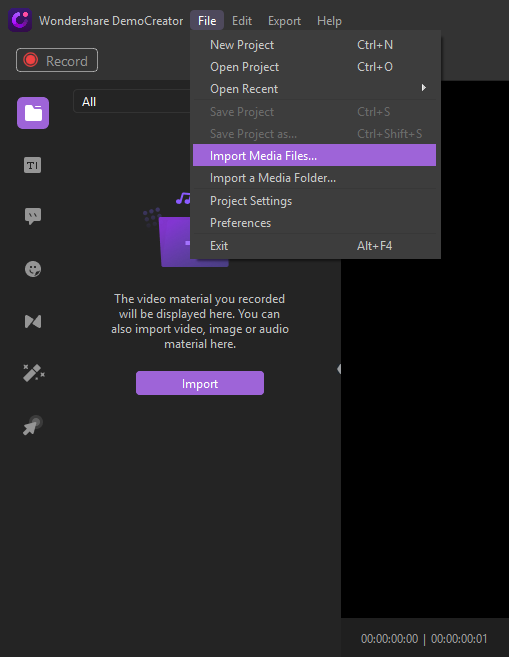 III. Supports High End Video Creator Functions And All Types Of Basic Editing Functions
It not just limited to screen capturing or recording, but covers a wide range of functions, such as attractive annotations, creative transitions, stylish stickers, captions, custom designed cursors. Besides, you have all the available basic editing functions, like, crop, resize, split, rotate, flip, etc.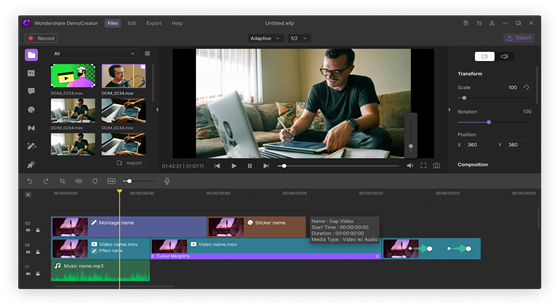 You can also create online courses of studies, coding, painting, etc. You can use the screen recording feature as well as webcam recording feature to share your gameplay, online classes, technical vlogging and many such things. For any sort of recordings, DemoCreator also helps you to add sound, effects, etc. Users can custom use system sound, webcam, mic according to their specific requirements.
IV. Interactive Cursor Designs:
When you are creating any tutorial videos, troubleshooting video or coding videos, it is very necessary that you create a well-defined unique cursor, which will help you to grab focus of the viewers on exactly where you are working on-screen. There is an option called Cursor Highlight which creates a highlight to make the cursor visible to users of all age groups, and then there are other options, such as, Click Rings and Click Sound for making the video interactive.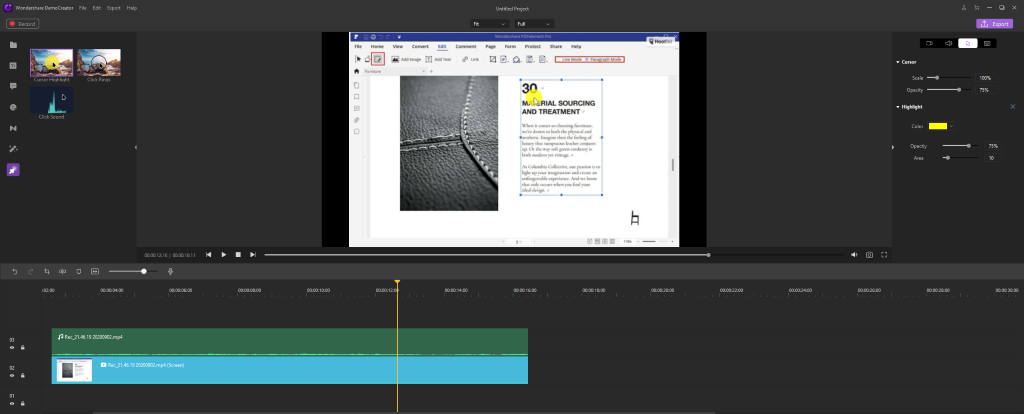 V. Create Impressive Annotations
Annotations mean adding text, lines, arrows, sketch animations, shapes, inserting such elements to make the video enriched with information, at the same time make it more visually appealing. While you are giving voice-over for a video, if there are annotations, then users can connect with what you are saying, which will engage them more to the videos.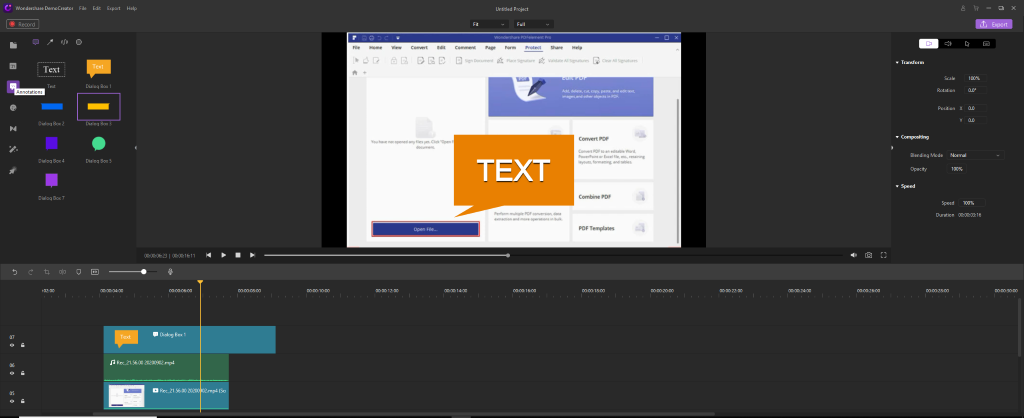 VI. Green Screen and Transition Effects
These two effects are extremely useful for any vlogger and Youtuber. With the green screen feature, you can eliminate any annoying background and replace it with beautiful background effects, or your company or channel's logo or poster. This will give your project a professional touch.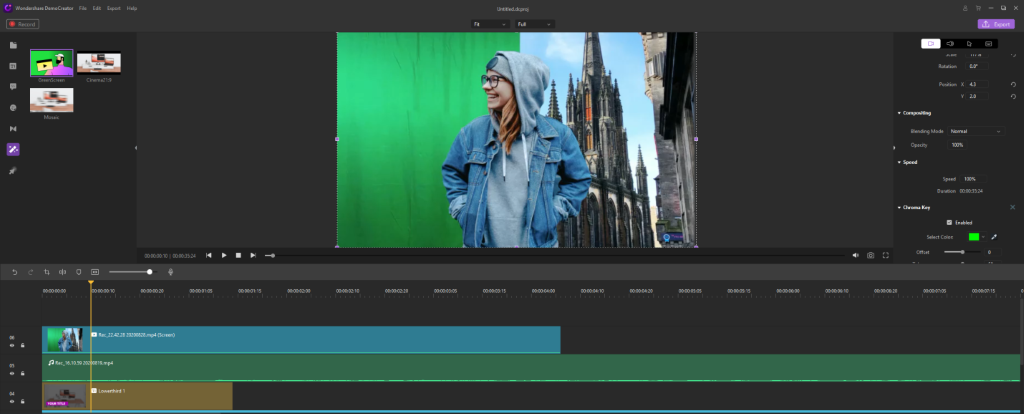 When you are changing slides, there are attractive transition effects like evaporation, dissolve, pixelate and many more.

Other than these, you can add stickers, different effects, to make the videos apt for social media.
Conclusion
I have used the application and have found it extremely useful. Democreator is smart, flexible and feature rich. Any new user can use it without any difficulty or any tutorials. I highly recommend my readers to give it a try.