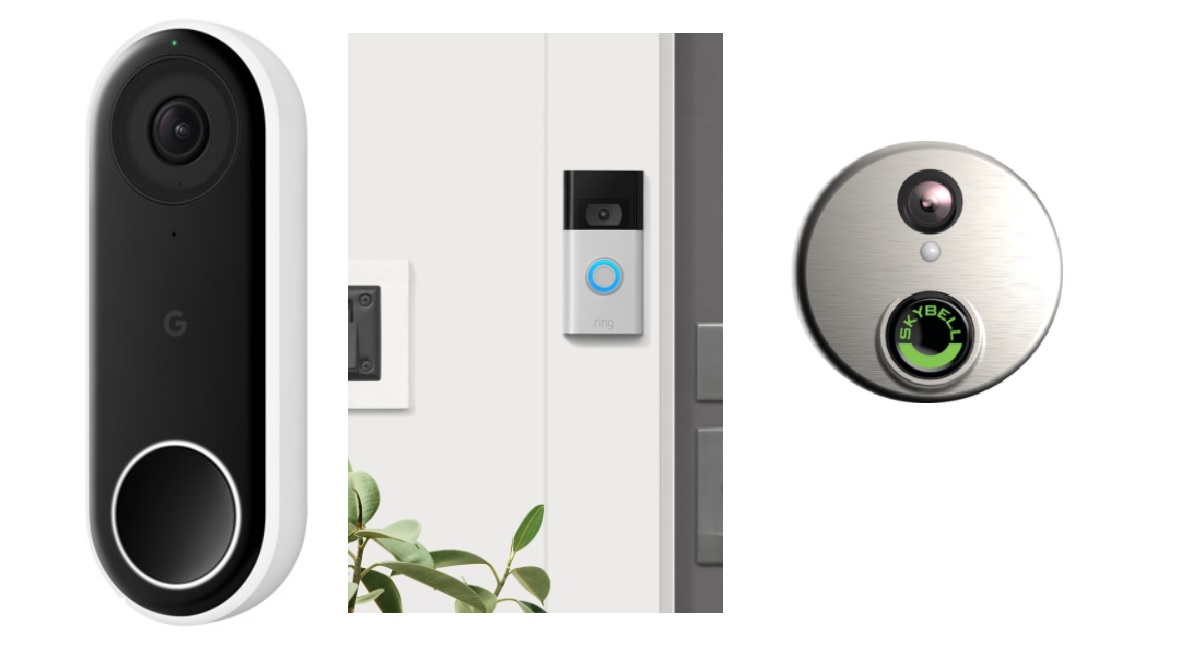 Modern-day technology has upgraded in such a pace, that even trivial objects like door bell have been improved. Now, the world does not accept the old time's doorbell. People are now looking for video doorbells for their front doors.
The most popular doorbells are the Ring Video Doorbell 2, the Nest Hello, and the SkyBell HD among the huge options available today.
Let us see which doorbell provides the best features.
Battery Power
Ring Doorbell is the only one that can run on battery power. It comes with an internal battery that can run to support the unit for months. This makes it stand out from the others. You do not have to wire it up to the existing system of your place. It is easiest to install as you just have to mount it anywhere you want.
On the other hand, the other two systems Nest Hello, and the SkyBell HD need to be wired with your existing doorbell system. These systems are also easy to install, and you can replace it with your existing system easily. But if your existing doorbell is not in an appropriate location for the video doorbell to be installed, you will have to go for re-routing of wires.
Ring Doorbell 2 can also be wired with your existing system, but it is equipped enough to go with the flow.
Also Read: Check Out The Best Key Finders Of 2020
Smart World
Both the Ring doorbell and SkyBell can sense motion but Nest Hello stands ahead of them. It can sense if the motion is of an actual person or not.
Nest Hello can even recognize certain faces when you tweak it from your end. So to your advantage, it will not just tell you that there is someone at your door, it will also tell you who is there at your door. The only thing is that, to use this, you need to have a Nest Aware subscription. The subscription starts at $10 per month. Without the subscription, you can only that there is some person at your door which is still an advantage over the other two.
Motion Sensitivity Controls
Motion sensitivity goes good with the Ring and SkyBell HD but Ring can do more things. You have the advantage to set the sensitivity for the zone you wish. You can also adjust to make one side more sensitive than the other. It is a great help when your driveway is off to the left and do not want to be bothered by every time someone pulls into your driveway. You get an alert only when they are at your door.
With SkyBell, you get adjustments such as Low, Medium, and High options. However, you do not get any customization when it comes to zones. With Nest Hello, you cannot customize motion sensitivity in any way.
Nevertheless, these 3 doorbells can be vulnerable to false positives depending on the location of your house.
Also Read: Check Out The 5 Best Smart Lamps Of 2020
Video Quality
The Nest Hello has the best video quality in the pack. It does not go up to 1080p resolution but goes to 1600×1200. But, the colors in the video are way better when compared to others and the image also appears sharper.
You have the ability to customize the video quality of the Nest Hello and the SkyBell HD, while the Ring offers no such customization. The default for Ring is 1080p (or 720p on the first-gen Ring).
Regardless, it is quite a lot dependant on your Wi-Fi connection. Better quality video will require good Wi-Fi and that goes without saying. Additionally, this pack of doorbells comes with great night vision.
Size
As you have already learned, the Ring Doorbell comprises an internal battery, it is comically large compared to the other doorbells. This is not a great deal but might get clumsy if you want to have in compromising places just like your old one.
The SkyBell HD is smaller but the circular shape does not make it a good choice for door trim fittings. It has a more compact version called Trim Plus, which has most its features but only does 15 frames per second whereas the SkyBell HD goes 30 frames.
Here, the winner is Nest Hello which is compact (small and skinny) and can be installed on most door trims easily. It reduces the work of re-routing as you can have it just where your existing doorbell used to be.
Smarthome Integration
People who have smart homes, need to consider the interoperability with the services that come along with such doorbells. the Ring and SkyBell HD work with IFTTT and Alexa but not with Google Assistant. only the Nest Hello works with Google Assistant. Such a thing is an issue.
Also, the Ring can integrate with a few smart lock models that make it easier for you to unlock your door from the Ring app.
The three video doorbells are mostly dependant on your wifi system. The speed and strength of your wifi is the game here. People generally prefer the SkyBell HD and the Nest Hello. These two options are considered to be reliable. The integrated Ring app works faster than the other two though. Again, all of it is dependant on your house and your Wi-Fi.