There arises a big confusion on which media streamer to buy amongst Amazon Fire TV Stick, Google Chromecast or Roku. All of these streamers are available within $50 so the cost factor does not apply in here for being a criteria of getting chosen. Here we are back again to solve this problem for you.
Amazon Fire TV Stick 4K vs. Amazon Fire TV Stick vs. Amazon Fire TV Stick Lite:
Available with three different tiny TV sticks, this media streamer platform is popular, powerful and affordable for mostly all audience. The 4K stick is available at $49.99 while the normal one that supports 1080p HD is available at $39.99 and the cheapest the Lite one is available at $29.99. This Amazon Fire TV Stick Lite offers almost all the features as the Amazon Fire TV Stick just it comes with a remote that cannot control the TV.
The Fire TV Stick 4K allows video streaming at 4K resolution which is not available in any other Sticks. The difference between Fire TV Stick and its Lite version is entirely dependent on the remote. The normal one has an infrared emitter which the Lite version does not have.
You can view Amazon streaming platforms such as Amazon Prime Video, Prime Music and other ones such as Hulu, Disney+ and even Netflix. Alexa, the voice assistant, is also available with the Fire TV Stick which would do every thing for you from playing your favourite song to dimming your room lights.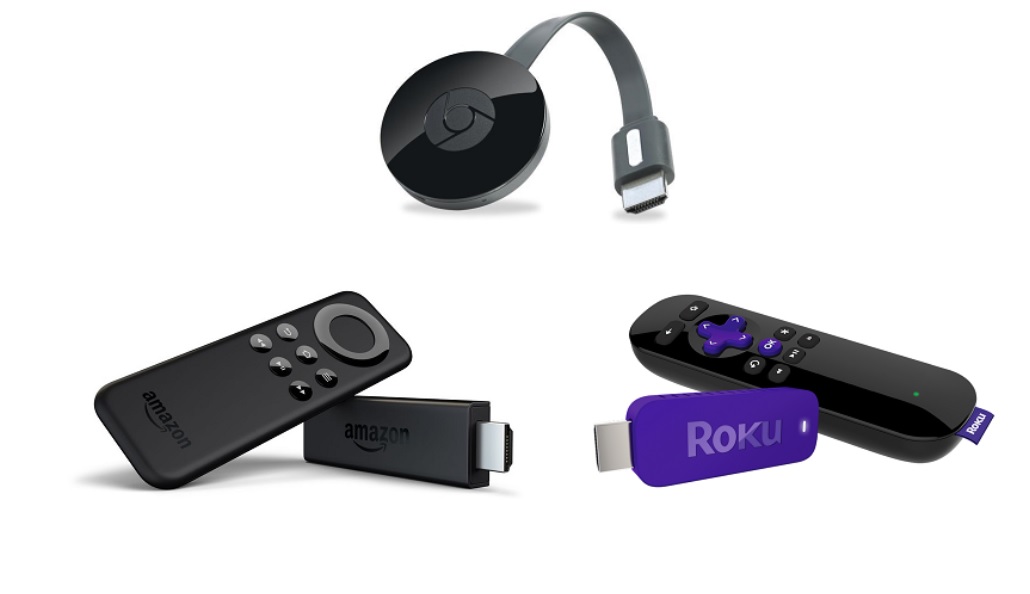 Chromecast with Google TV:
Available at $49.99, it is better than the previous devices as it also includes the 4K streaming option, a remote and an on-screen interface for better experience. This implies that this device can improvise any normal TV to an Android TV by covering all other features of it
. It has the capability of streaming most of the famous OTT platforms such as Disney+, Prime Video except the Apple TV which gives Fire TV Stick and Roku the lead in this race.
It also has the Google Assistant which is absolutely the same as Amazon's Alexa offering the same support and assistance and is also flexible with a lot of languages.
Roku Streaming Stick+ vs. Roku Premiere vs. Roku Express:
The Roku Streaming Stick+ is available at $49.99 and is almost similar to Fire TV Stick 4K and Chromecast with Google TV. The Roku Premiere is available at $39.99 and it also offers video streaming at 4K resolution but for that a small box is required to be kept so that infrared remote is able to activate it. The Roku Express allows video streaming at 1080p HD and is available at $29.99.
Roku streaming platforms does not support streaming in HDR unlike others rather it works in HDR10 and HLG and not Dolby Vision which drags it a step back from the other two.
Roku is a remarkably powerful platform as it allows video streaming from all OTT platforms including Apple TV, Prime TV and many more. It does not stream Twitch. Roku also lacks a powerful voice assistant like Alexa or Google Assistant and thus this also brings it a step back than the others.