Scientists have been thinking for long time to find an alternative habitat other than our mother earth and the first criteria for a habitable land is the availability of food. Long ago, we published an article on how scientists are trying to grow lettuce on Mars. After that several new endeavours were taken up by NASA to cultivate crops on space. Finally they succeeded in growing lettuce at the International Space Station. Unlike normal salads of our breakfast, this salad is grown on space. Isn't that amazing?
Astronauts Scott Kelly, Kjell Lindgren, and Kimiya Yui were having the special bites of the special lettuce. A sense of satisfaction and galore were reflecting from their faces. The project was a part of NASA's plant experiment, called Veg-01. The experiment was to check the sustainability of life on spaceand the probability of growing plants there. The crops were planted in May 2014 and brought back to Earth in October 2014. The lettuce were then taken for testing purposes. The lettuce which was consumed finally was planted actually on July 8th.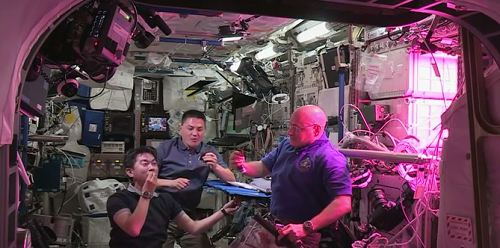 Astronaut Kjell Lindgren cut half of the lettuce from the rooting "pillow". The rooting pillow is actually a pouch which contained the soil and the seeds. After that the plants were cleaned with citric-acid based sanitizing wipes. Finally, extra virgin olive oil and balsamic vinegar were added into the lettuce before consumption "That's awesome!" exclaimed Lindgren in joy.