One of the most important factors of a great website is its responsiveness to different search engines, operating systems, type of devices, etc. Every aspiring developer must keep this in mind, the sanity of a website depends on how well the user can access it. If a user opens a website and find images missing, or the font or image size is too large or too small for the device in use, he/she will leave the website. User experience is the biggest priority of any website owner or web developer. In this article, I am reviewing Comparium website responsiveness testing tool, and I shall discuss its significant features.
Why Is It Important To Analyse Website Responsiveness?
Website Responsiveness is a parameter which helps it to scale its content, and all other relevant components across all platforms and devices. Let me explain this more simply. If a user visits a website and likes its content and UI, he is likely to come back to the website in future. Now, the person opens the website from a mobile device, and finds that the website is performing poorly from mobile device and has not been optimized for any other platform but Windows OS. The person will not want to check it anymore, due to lack of convenience. Therefore, it is very important that a developer pays attention to the responsive design of a website.
Why Website Responsiveness Testing Tool Is Necessary?
A website design testing tool is required to test and check if the website is working properly and if all its content and media files are displayed correctly across all device and platforms. If you have a blog, you know that mobile device compatibility, or platform compatibility is a deciding factor of the conversions and value of your blog. For all these reasons, you need a testing tool to check if your responsive website design is working in sync. Usually a website design testing tool will consider a plethora of parameters, such as, operating system, device types, device configurations, screen size, fragmentation, etc.
Significant Features Of Comparium
1. Comparium provides a free platform to users where they can capture screenshots of their websites and domains for different platforms and devices. There is a paid version which provides full functionality, but the free version lets you try and test at no extra cost.
2. Comparium automated testing tool allows you to choose the operating system and browser combination, and then provide the results. Within few minutes, Comparium displays the screenshot results.  
3. It provides comparative analysis for different platform and browser combinations, in grids. So, any user can have an unambiguous vision of the website responsiveness and visuals.
4. There is a live testing feature in Comparium, which is quite popular. The live testing feature helps a developer to test his website with that of other competitors, in real time.
How To Use Comparium Web Testing Tool?
Comparium is an easy to use tool. If you want to check screenshots of your websites, you need to enter the URL, platform and browser. Then hit Test.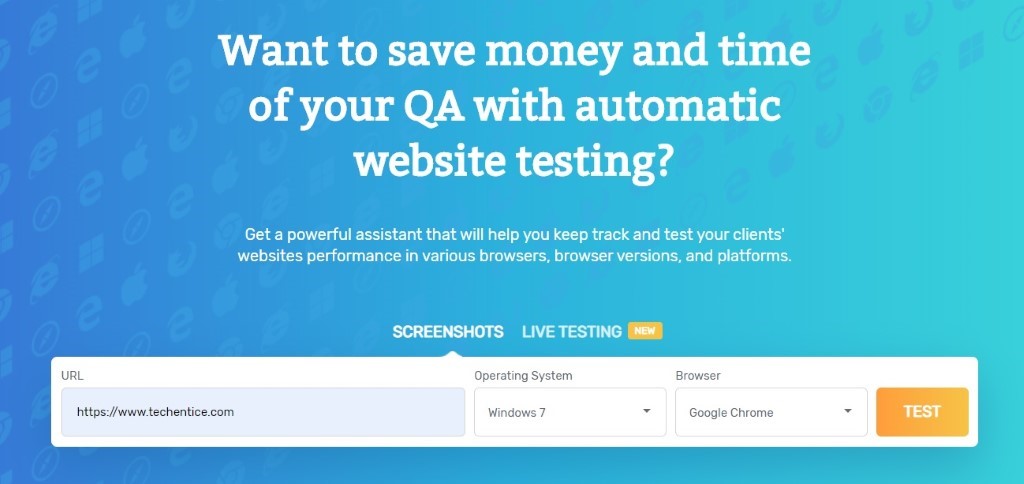 Wait for some time and you will get the results.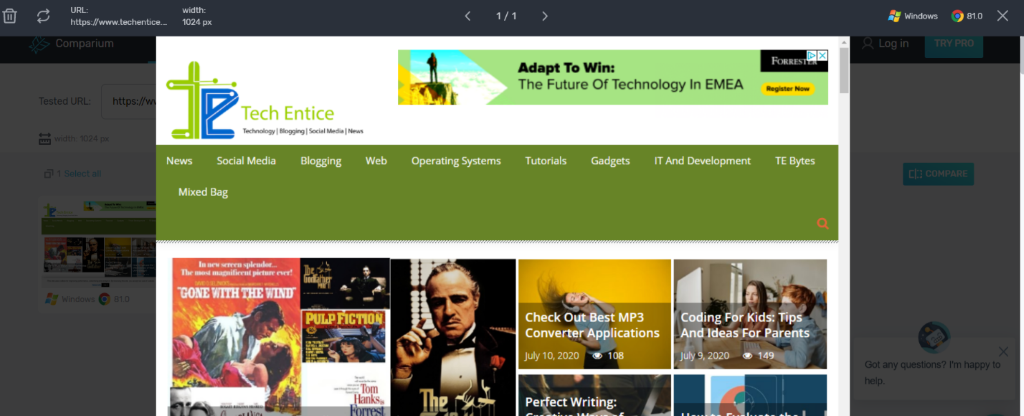 If you want to live test, tap on the Live Testing option just beside Screenshots option. Enter the combination of browser and platform. The tool will start testing. Conclusion
Comparium has various subscription options, that you can choose from. The application is straight forward and on point. There is no unnecessary complexity. But, too much simplicity can be a menace. For example, the Live Testing option just starts, without giving a single hint of how long it might take. Thus, a first time user will become impatient and leave off mid-way. Besides, Comparium is now in the middle of development and thus lacks feature. So, it is difficult to comment over the overall performance. If I get to review it in future, when the service works with full functionality, it will be easier for people to understand. At this point it is too early to compare with other such services.