There are generally two options you have when creating your own website, assuming you're not a professional web designer: using a website builder with a template, or commissioning someone to create a design and layout from scratch. 
Which option you choose depends on many factors, which we'll discuss below. By the end of this article, you should be ready to make a decision: will you use a customizable template or hire a bespoke designer? 
Learn about the pros and cons of each route here.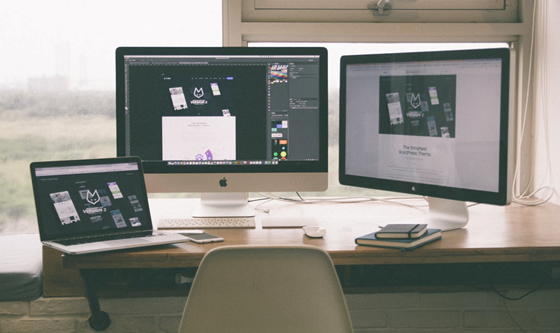 Cost
First, let's talk about money. How much you have to splash on a custom website will be a big factor in your decision.
The low-cost option in this instance is to use a website template. Platforms like WordPress are absolutely free and allow you to construct your site at no cost, providing you use a simple template. This works well if you only need a simple site, like a portfolio for your work or a blog site. You can choose to purchase a more detailed template if your site is to be a store or you want more customization options.
Bespoke web design services will cost more; the exact price of which will depend on the size and type of site you want and the rates of the designer. The benefit of this route is that a good web designer can create an entirely custom-made site exactly to your specifications, that looks more professional and functions better than your competitors'. 
If your aim is to sell, bespoke is always best. 
Brand Identity
Many website builders like Shopify (for eComm sites) allow you to customize the color scheme and add your logo for free. Then, you have the option to download add-ons and extensions like improved cart functions, usually for an extra cost (although this is usually not much). 
The downside to this is that your store or site could end up looking just like everyone else's. However, if your product or service is unique enough and solves a problem for customers, you may still make lots of sales. 
The above option is fine when you're starting out. But, as your business grows, you may want to invest in a designer to solidify your brand identity on the web. They can make your entire site look different to, and therefore stand out from, your competitors', improving consumer trust and boosting your sales. 
Special Features 
As we said, you can get extensions and add-ons for your site even when using a template. Some of these are free and some cost extra.
A web designer is able to build those functions directly into your website's coding, integrating it into the user experience and making things function far better for your customers. 
Say, for example, you run a cake business where customers can order online. Rather than using a basic cart add-on where your customer then has to email you the specifications of the cake, like its size, flavor, and color, a web designer can build you a custom cart where your customer can add these options on your site itself. This is a much cleaner experience for both you and the customer. 
Rather than searching for affordable add-ons that fit your business model, hiring a designer to customize your site to your needs will pay off in the long run. 
It's Decision Time
Choosing between using a website builder or commissioning a professional web designer is a personal choice, but we think it can be distilled down to these instances:
For small businesses or simple websites, a low-cost template that you can tweak might work just fine to get you started.
But once you start making money, or decide you need custom functions, it's time to consult with a designer!