Developer Nick Lee has made an Apple Watch run at the slowest possible pace. All credit goes to his experiments of running Windows 95 on his Apple Watch. He posted a video on YouTube about how it looks when the age old Windows 95 is running on the latest High end smart watch by Apple. He also wrote a details of his experiment and the constraints faced by him during the installation procedure.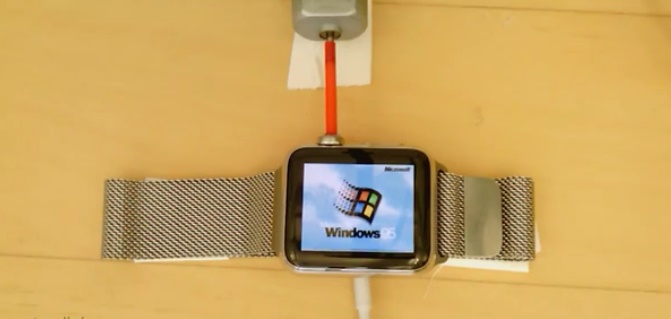 Since Apple watch specifications are much advanced compared to Windows 95, so the device normally supported Windows 95. But the problem was that Apple does not allow installation of any other operating system in its Apple Watch device. Hence he had to find a roundabout way which is definitely very difficult.
Lee modified Apple's development software in an unconventional process. In order to install and run Windows 95, he had to tweak the OS and convert it to a watch application. Another issue faced by Lee is that the Apple Watch's screen turns of when not in use. In order to keep the screen on, Lee he set up a motorized tube that constantly turns the Watch's crown, preventing it from sleeping.
Even though the Watch is extremely slow but the surprising thing is that it's functional and Lee also deviced the OS in a way to allow Windows 95 track a single fingertip. Check the video to get more detailed perception: