Prior to the Fortnite $30M World Cup, developer Epic Games had hosted its Second Annual Pro-Am celebrity tournament in Los Angeles, this past weekend. This had capped off a weekend fan celebration called Fortnite Summer Block Party.
It was felt like a preamble to its World Cup, only if key elements of the game's competitive community were highlighted by the charity event. It would be on full display, which would determine the fame and success of the world's highest prized sports competition.
This year's Pro-Am event was held in the Forum in Inglewood, California. It was a gigantic circular stadium well known for hosting popular musical acts. There was also present an amusement park outside the stadium where participants could compete if they opted to, by filling up a challenge card taken from the game that could be redeemed for exclusive prizes.
The event was transformed into a high production affair with 17,500 seaters along with spectacular sound system, brilliant sound system, excellent stage setup. The corporation had debuted a custom-built structure, featuring a no. of viewable screens from various viewable angles. It also comprised of several mascots roaming around the grounds, taking photos with fans. In game skins such as Peely the banana, Durr Burger hamburger man etc. The screens were of various sizes each featuring important information including that of the 100 participants. E.g. one screen showed the no. of players alive and another one kept updated of the standings.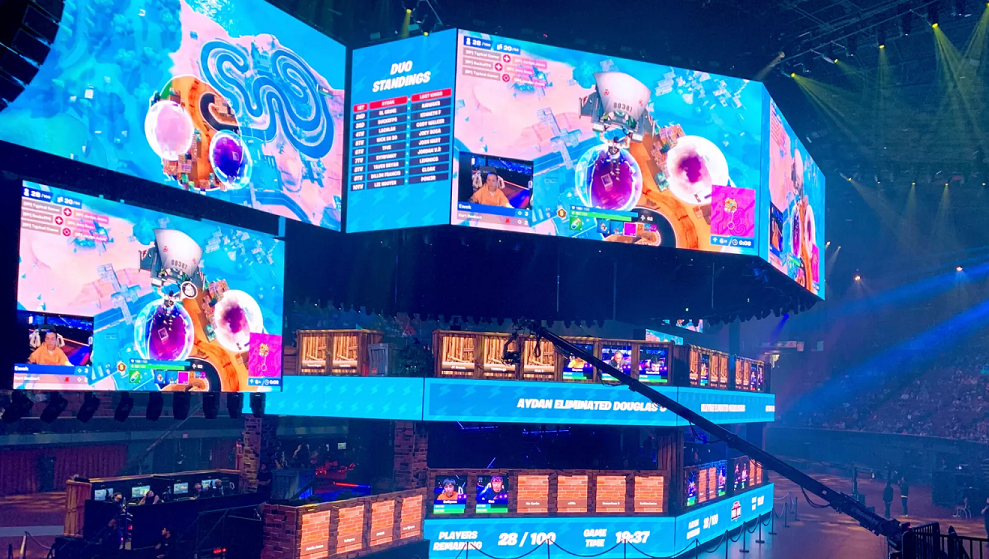 The tournament was so well organized that the viewers did not feel anything that might have had been missed out or omitted.
The fans too were happy to the fullest as they could see their favorite streamers right in front of them live and for this enjoyment of the fans, Epic was highly responsible as it had introduced every duo of the 50 teams so that everyone could cheer for them. The roster included Tyler Blevins a.k.a. Ninja, Turner Tenney a.k.a. Tfue, Dennis Lepore a.k.a. Cloakzy each paired with a popular internet celebrity. It also showcased a no. of unpopular streamers and players like former League of Legends pro Karim "Airwaks" Benghalia of Switzerland but were undoubtedly excellent in their fields.
Currently Fortnite provides the biggest platform to star performers, Twitch's popular streamers and some not so popular yet tremendously competitive players to prove their worth. Epic is going to host two 100-player tournament finals at Arthur Ashe Stadium with tens of millions of dollars on the line. That will wrap up the first year for Fortnite e-sports, but it's also just the beginning.