The Lunar XPrize is a $30 million competition for a privately-funded mission Nascar on the Moon, to get to the moon, land a rover, and travel across the Moon sending back images and telemetry. The Google-sponsored prize has been around since 2007, but it looks like first place is going to come down to a mad dash across the lunar surface.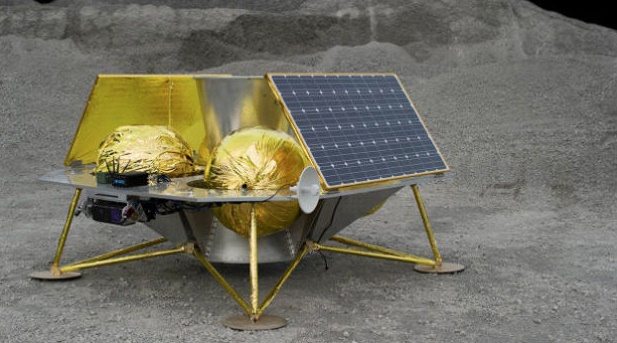 This is definitely a new kind of space race competition where two teams will be involved in a private moon competition who have teamed up to get to the lunar surface by the end of next year, potentially sowing the seeds for a sort of lunar NASCAR race.
Japan's Hakuto and Carnegie Mellon University spin-off Astrobotic are two of the teams competing for the $30 million grand prize that requires the teams to safely land a robot on the moon, then ambulate it 500 meters on, above or below the surface and send back an HDTV video signal to Earth. Hakuto and Astrobotic have agreed to collaborate on that first requirement. More additional groups, if they decide to sign on — could duel it out in a "Formula 1 race on the surface of the moon," said Astrobotic CEO John Thornton. First place in the Lunar X competition will go to the first robot that explores at least 500 meters and transmits HD video and images back to Earth. You can see where this is going.
"We envision a NASCAR on the Moon scenario, where competing teams land together, and countries can cheer on their team to the finish line. HAKUTO is the first team signed to fulfill our dream of the first race beyond Earth's orbit."
– John Thornton, CEO, Astrobotic
Astrobotic and Hakuto have created a partnership that will allow both teams to share the cost of flying to the moon atop a SpaceX Falcon 9 rocket in the second half of 2016, Astrobotic and Hakuto team members say. A SpaceX Falcon 9 rocket will carry Astrobotic's Griffin lander to the moon with Hakuto's Moonraker and Tetris rovers hitching a ride, along with Astrobotic's Andy rover. The three rovers will be released simultaneously upon touchdown to race across the surface and send back HD video to claim the grand prize.
Both the Astrobotic and Hakuto teams were recently awarded "milestone prizes" by a panel of GLXP judges. These cash prizes in three different categories serve as rewards for teams that develop and test new technology as part of the private mission to the moon. Astrobotic won $1.75 million in the imaging, mobility and landing categories, while Hakuto got $500,000 as part of the mobility milestone prize.
"This contract enables Hakuto to actually send our rover to the moon, which is important because Hakuto is only concentrating on rover development."
– Team leader Takeshi Hakamada.
Astrobotic says it hopes to help facilitate the first race beyond Earth's orbit.
"We envision a NASCAR on the Moon scenario, where competing teams land together, and countries can cheer on their team to the finish line."
– John Thornton, CEO of Astrobotic.
The race itself could even be televised, with the rovers beaming back images to Earth for people on the planet to behold. Although travelling 500 meters doesn't sound like much of a race, you have to bear in mind the kind of vehicles being used here. NASA's Curiosity rover, for example, the most technologically advanced vehicle to land on Mars, is cruising along at a barnstorming 30 meters per hour. Then you've got the other challenges to consider – getting into orbit sans explosion, landing successfully, and not breaking down in the first 100 meters. If these brand-new companies without the budget or experience of NASA can pull it off, it will be a major milestone for private space exploration – not to mention a whole new world of commercial opportunity for NASCAR.