Google search is something that we can't forget how much hard we try. There is probably no Internet user who has never used Google search. The biggest ever search engine displays its search results in a typical format. The search texts appear in bigger size and in blue color whereas the links font is comparatively smaller and appear in green color. This color combination has not been adopted just like that. It's a result of intense research and experiments made by Google.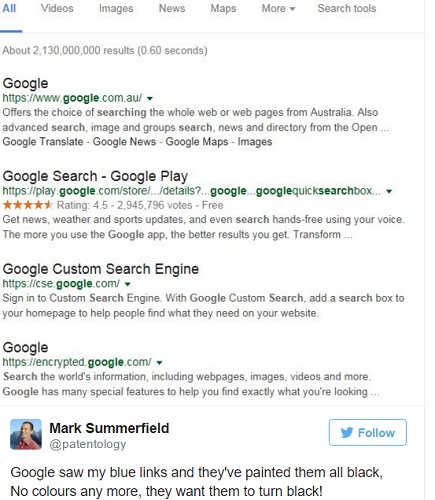 Now it seems Google is again experimenting with its search results formatting and that's definitely for a reason. According to The Telegraph, Google has changed the blue color of the search results texts to black. The links are still appearing in green color. When you search for something in Google, the first pages contain 10 links with the said color combination and formating. Some users are seeing these links as black. Several speculations have been made about this change. Many are reporting that the company is finding out if users prefer to click on black links or blue links. Many people are saying that the color change probably has something to do with ad revenues.
In 2009, Google tested 41 different colors of blue for Gmail ads and search result links. The change in formatting  ultimately earned the company an extra $200 million a year in ad revenue. Google was not available for comment. So the actual reason for this change in color has not yet been known. Not every user is seeing the black links only a handful users have experienced this. The basis on which the selection has been made has also not been known.