The pillar of Google is advertising and Google earns most of its profit from advertisements. This may surprise you but have you ever thought of how Google's Android provides so much flexibility in providing cheap and free software applications whereas other platforms like iOS and Windows cost more. The answer is simple. Advertising is the backbone of Google fund.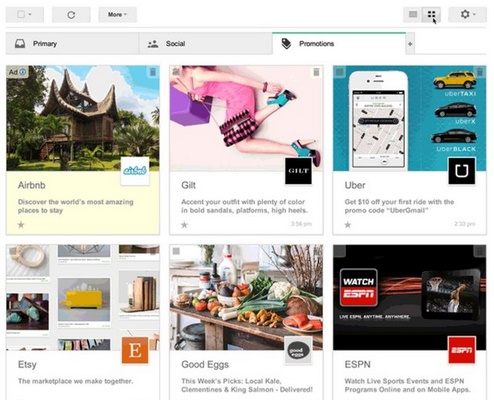 Now that you know Google's advertisement affair, it is quite obvious that it would dedicate itself in attracting users to advertisements and gain money. Hence it has made the Promotional Section more attractive with pictures and videos. This is called field trial. This field trial is currently available in English for @gmail.com addresses, not for Google Apps account. Due to limited capacity and setup, this feature is not available to everyone.
If you are selected for the field trial, you will get a message in your Promotion tab when this feature is turned on for you. To get field trial, click here https://mail.google.com/intl/en/mail/help/fieldtrial.html.
Then click on Join field Trial. Then click on accepting terms and conditions and then Submit. Thus you apply for getting Field Trial . If you are selected, you will be informed.