Apple is releasing iOS 12 very soon. The new version will bring a plethora of new features such as Group FaceTime, Animoji/Emoji Creating, Screen Time Recording fast responsive interface and many more. Even though the official version has not yet been released, yet users have started using the developer version or the public program. Both these versions have a number of bugs. So, users who have already started using iOS 12 will probably face any of the potential issues with iOS 12.
iOS 12 And The Issues Faced By Users With Its Developer Version
Listed below are some of the bugs that have been encountered by iOS 12 users as of now:
1. One common issue that has been faced by numerous users is the inability to update the iPhone or iPad to iOS 12. The error message that will pop up "Unable to Check for Update. An error occurred while checking for a software update".
2. Another error message that is similar to the previous issue is Software Update Failed, An error occurred downloading iOS 12. This problem arises due to failure while attempting to download iOS 12. Issues can occur during any step of the OS download. For example, an error can occur when the verification of update is going on. Error can arise during profile installation, etc.
3. The developer version has given rise to many other problems such as overheating and excessive battery drainage. Some users have reported on Reddit that as soon as the iOS was updated to iOS 12, the battery drainage increased manifold times.
4. Sometimes, Airdrop, Alarm, Cellular Data, Camera, flashlight stops functioning properly.
5. Some other common bugs that can attack anytime to any iOS version are phone stuck on Apple Logo, and sometimes it gets stuck frozen completely. Other circumstances include continuous reboot loop, black screen, etc.
PhoneRescue: The One-Stop Solution For iOS Data Loss
Under all the above mentioned conditions, the device loses several data. Such problems can be solved manually, but the data lost can not always be retrieved easily. For that you will need a strong, reliable data recovery software. One such potential and effective solution is the iMobie PhoneRescue software. PhoneRescue can address all the above problems with its multifarious repair and recovery tools.
1. First of all, download the PhoneRescue software from the official site of iMobie. Once downloaded, run the .exe file to start the installation process. The app then starts installing. The installation will take some time to complete.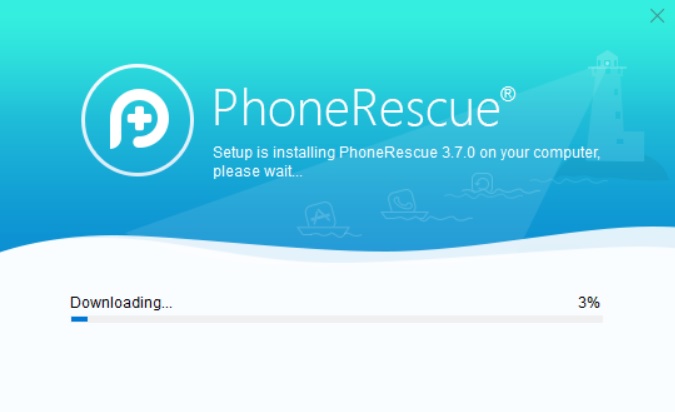 2. Next, you will be asked to follow some simple steps like selecting the desired language, some simple tips such as turning on airplane mode, prohibition of background apps running, avoid system cleaning software, etc. Follow these tips and start the software. When the UI of the app launches, you will find that there are three different recovery modes that can salvage your lost data. These are Recover from iOS device, Recover from iTunes backup, Recover from iCloud backup, etc. There are different conditions of data loss in which these three modes will operate: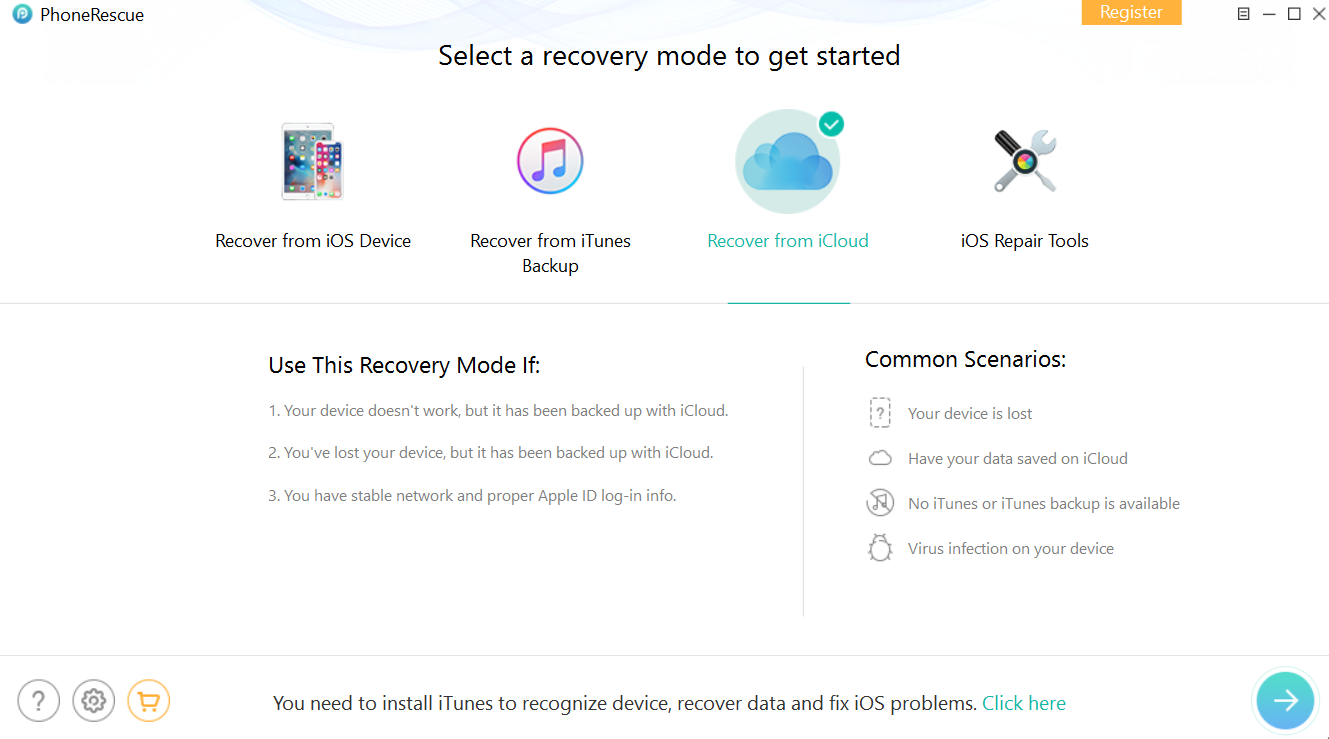 Recovery from iOS Device
This mode works when the device is in good condition and can be detected by the Phone Rescue app normally. It works when the data lost is due to accidental delete, or device has become unresponsive, broken or screen is damaged.
Recovery from iTunes backup
This mode is required when your device is lost, damaged, completely destroyed or in a condition not possible to recover. It also works when the phone or the iOS device cannot sync to iTunes.
Recover from iCloud backup
When the device is lost, or cannot retrieve any data from iTunes, but have the data synced to iCloud.
Conclusion
The software is extremely versatile and comes with an amazing repair mode that can flawlessly repair critical scenarios such as device stuck on the White Apple logo, unable to boot iOS, iOS upgrade failure, device stuck at recovery mode. The app has a tremendous success rate and can repair and rescue any data loss or critical scenario for an iOS device. You can retrieve all your valuable information in a jiffy.
The app is beautifully designed and has been made user friendly so that anyone can recover their valuable data in a single shot. PhoneRescue is one of the best iPhone Data Recovery software applications available in the market and we highly recommend users to try it.