Mac operating systems are always trusted by users for their reliability. However, none native NTFS write support is also a feature that many users are complaining about. By default, macOS comes with read-only support for NTFS, and its disabled-by-default write support for NTFS is unstable to use. That's to say, you're unable to write to NTFS formatted drives on Mac directly.

But there is an easy solution provided by iBoysoft Drive Manager so that you can write to, edit, copy-paste, delete, rename files stored on NTFS drives on Mac.
About iBoysoft Drive Manager
iBoysoft Drive Manager is a multifunctional disk management tool with multifarious features. It is one of the most powerful NTFS for Mac mounter, which can mount NTFS formatted external hard drives, USB flash drives, SD cards, etc. on your Macs. iBoysoft Drive Manager grants users with full access to NTFS drives, allowing NTFS write support seamlessly on Mac.
Besides, iBoysoft Drive Manager is also an external drives and network drives management tool. It supports one-click operation to mount/unmount and connect/disconnect several storage devices. This program will automatically unmount your disks when your Mac gets into sleep mode to avoid disk corruption. Meanwhile, it is able to map the network drive as a local drive as well as offer an efficient way to access FTP servers on Mac.
This software is fully compatible with macOS 10.14 (Mojave), macOS 10.13 (High Sierra), macOS 10.12 (Sierra) and Mac OS X 10.11 (El Capitan), 10.10 (Yosemite), 10.9 (Mavericks), 10.8 (Mountain Lion), 10.7 (Lion).
How to mount NTFS drives on Mac with iBoysoft Drive Manager?
Step 1: Install iBoysoft Drive Manager
Just like other software, using iBoysoft Drive Manager will start from installation. It's pretty easy to do this actually because all you need to do is to download and drag it to your Applications. It allow users to try for 7 days before you pay for it. After installing this tool, you can launch it as normal.
Step 2: Connect NTFS drives to Mac
When iBoysoft Drive Manager is launched, all connected drives will be listed in its drop-down menu. If you have a Microsoft NTFS drive that you want to use on Mac, you can just simply plug it into the Mac and wait for it being detected. Once you get a notification from iBoysoft Drive Manager that your NTFS external drive has been mounted successfully, you can write to this drive.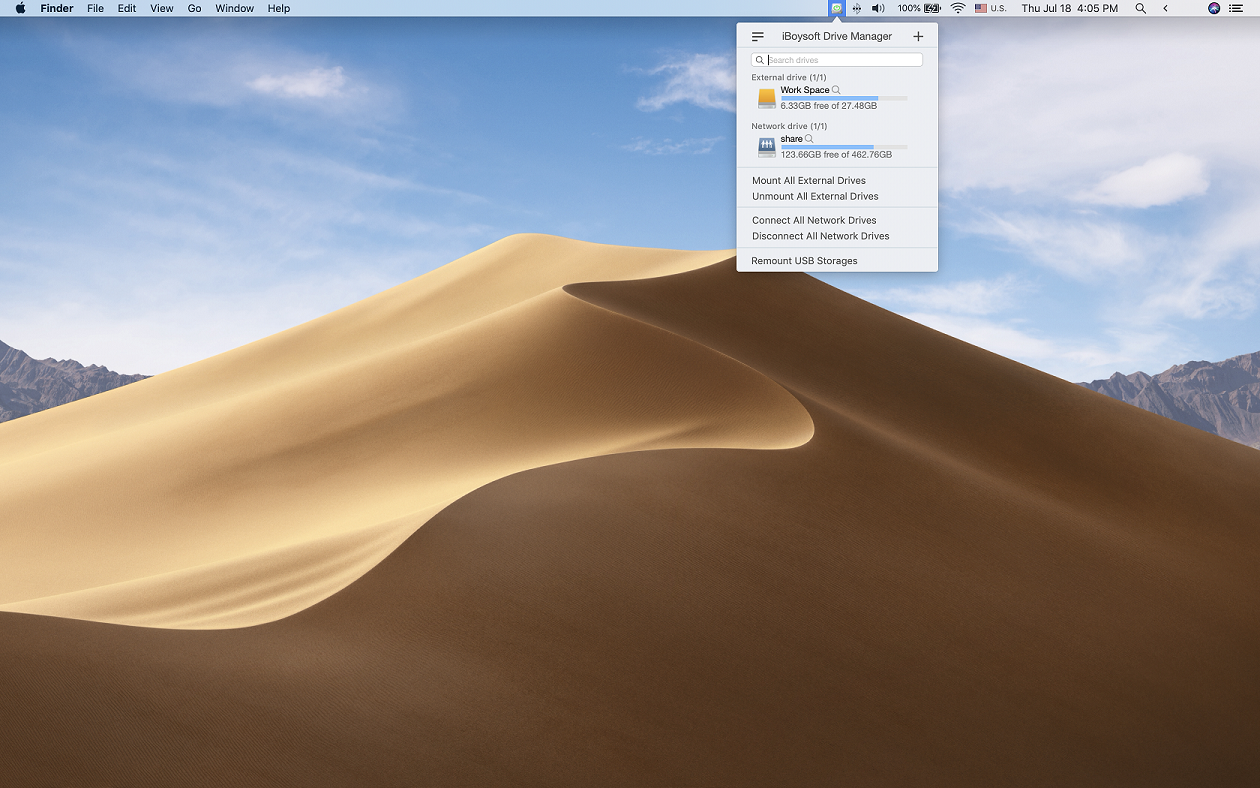 Step 3: Write to NTFS drive on Mac
As long as your NTFS external hard drive is mounted by iBoysoft Drive Manager, you can move forward to delete, edit, duplicate, rename files on this NTFS drive natively and seamlessly. You don't have to format this NTFS drive to make it compatible with Mac and Windows at all.
Note: If you have formatted this drive as someone told you and lose important files, you can search for iBoysoft Data Recovery for Mac to get lost files back from formatted drives.
That's it, your Mac now is NTFS write supported after installing iBoysoft Drive Manager. Easy, right?
Some people may suggest installing NTFS-3G or Fuse for macOS NTFS driver, but in fact, they are tricky to use. they are prepared for hackers and geeks who are familiar with the command prompt, not common people who can easily mess up the system. Any improper typing or operation might result in data loss. That's why iBoysoft Drive Manager is called an easy solution to mount NTFS drives here.