Memories are some of the most precious possessions in our lives. As days pass by and become past, the memories only remain. With smartphones and tablets in our hands, we are fortunate enough to be able to create thousands of such memories. Now technically speaking, preserving these digital memories is a hectic process. As we tend to switch our handsets, as well as operating system platforms, transferring the data from one platform to another platform is a tedious job. Thus, we need a handy third-party application, that will do the job for us.
AnyTrans For iOS
If you are an iOS device owner, then AnyTrans can be your best companion. AnyTrans for iOS is professional level iPhone manager software that can perform a plethora of management operations, such as transferring, managing, creating backup of all data of your iOS device. If you have purchased a new iOS device and want to transfer all photos, videos, music, Phone messenger and WhatsApp messages, and everything from your old iPhone to your new iPhone, then AnyTrans can sort it out in a jiffy. AnyTrans is not just limited to transferring photos and videos. It is also a great Social messages manager.
Promising Features Of AnyTrans for iOS
. Before beginning to talk about this property of AnyTrans, let us have a look at the promising features of the application.
1. Transfer Of Media Files Independent of Platforms
AnyTrans can effortlessly transfer photos, videos, music and all types of media files from your iOS device to your computer, or another smartphone irrespective of the platforms. The application beautifully organizes the images by category, such as selfies, places, live photos, etc. AnyTrans creates a backup for the same and the backup helps you to move your files from one iOS device to another iOS device, or to a PC, or to an Android device, or across cloud services like iCloud and Google Cloud. It adjusts the compatibility accordingly, so that users do not encounter any compatibility issues with the application. With the same precision, it can transfer other file types, such as, personal information like contacts, messages, apps, music, files, messenger applications and their respective chats, etc.
2. An Efficient Backup System
AnyTrans for iOS facilitates three distinct backup methods, such as, full backup, incremental backup and air backup. The full backup creates backup for each and every data of your iPhone from the scratch. The incremental backup only backs up the change or addition of any new data, and the Air backup creates backup over internet wirelessly.
3. Versatile Restoring Capability
AnyTrans has given special attention to the restoring feature. If a user wants, she can restore all her lost data, or select to restore any desired portion of the data. Besides, it can consolidate data backed up in different accounts such as Air backup, iTunes backup, etc.
4. Online HEIC Converter
In iOS devices, photos are saved in HEIC format for that extra layer of security. But if you want to transfer the photos to another platform which does not support HEIC format, then AnyTrans has an efficient online HEIC converter as well.
5. Social Messages Manager
AnyTrans can backup all social media messenger chats like WhatsApp, Viber, etc.
6. Other Features
Other features include media downloader, screen recording, screen mirroring, ringtone creation, etc.
Steps To Transfer Your WhatsApp Messages From Android To iOS Device
1. First, download the AnyTrans for iOS application for your PC. Install the application and launch it.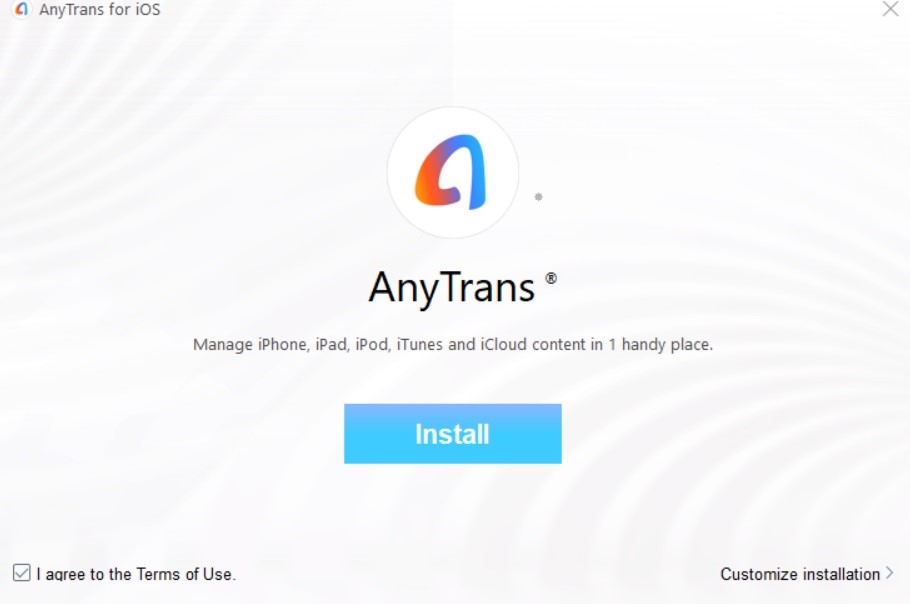 2. The download and installation will take a few minutes.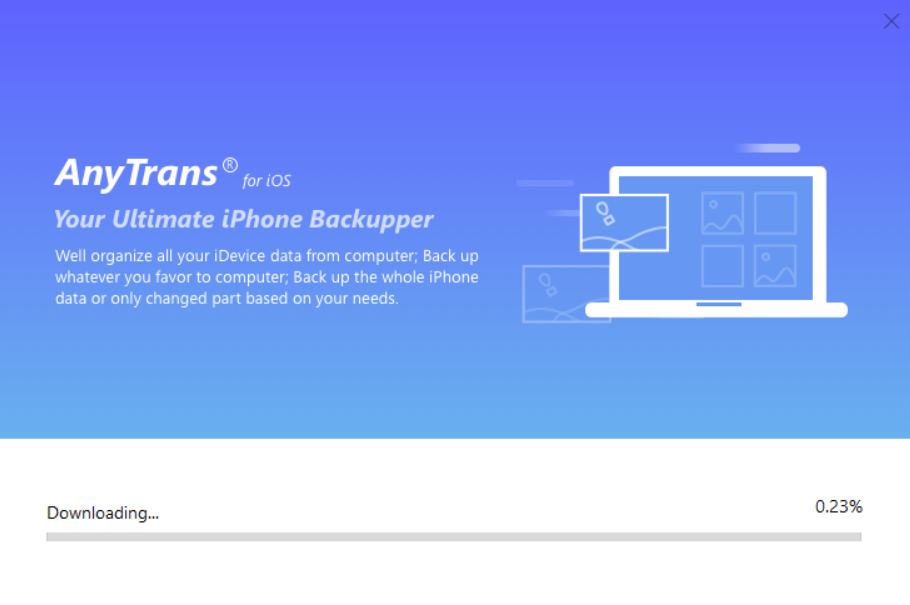 3. The UI of AnyTrans looks like this. In the left panel, you will find an option called Social Messages Manager. Click on it.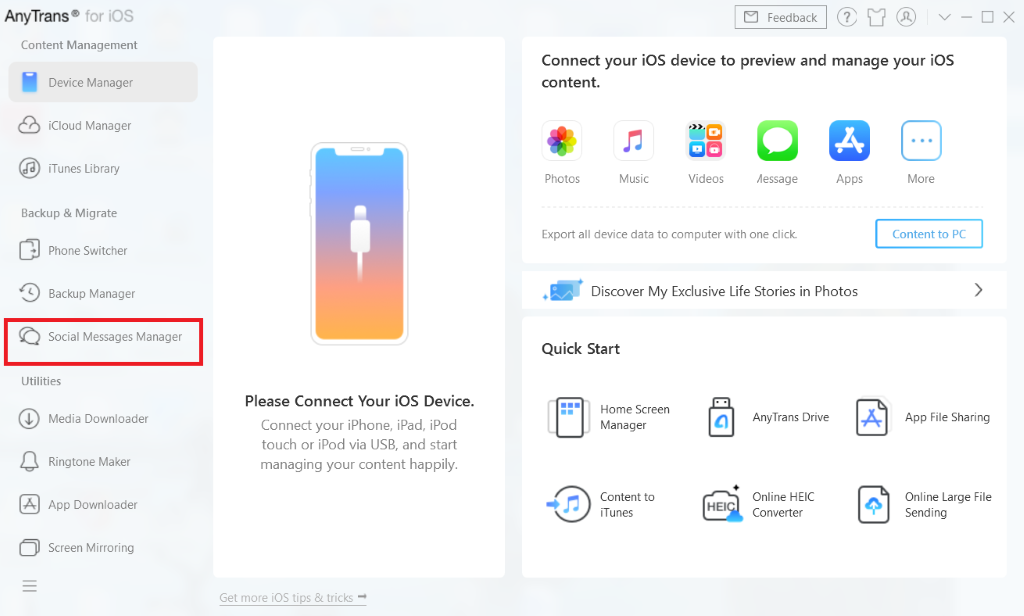 4. Next, connect your iOS device to your computer. In the app screen, click on WhatsApp. There will be 4 options, backup, restore, iPhone to iPhone, Android to iPhone. Here, I am trying to transfer messages from Android to iOS.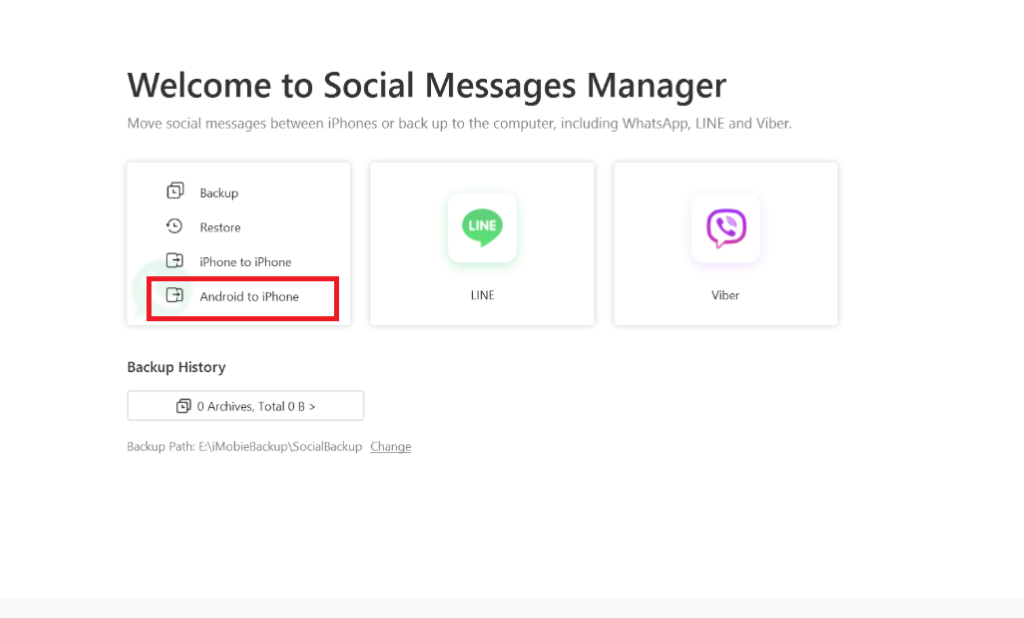 5. Now, add an Android device, and click on Next.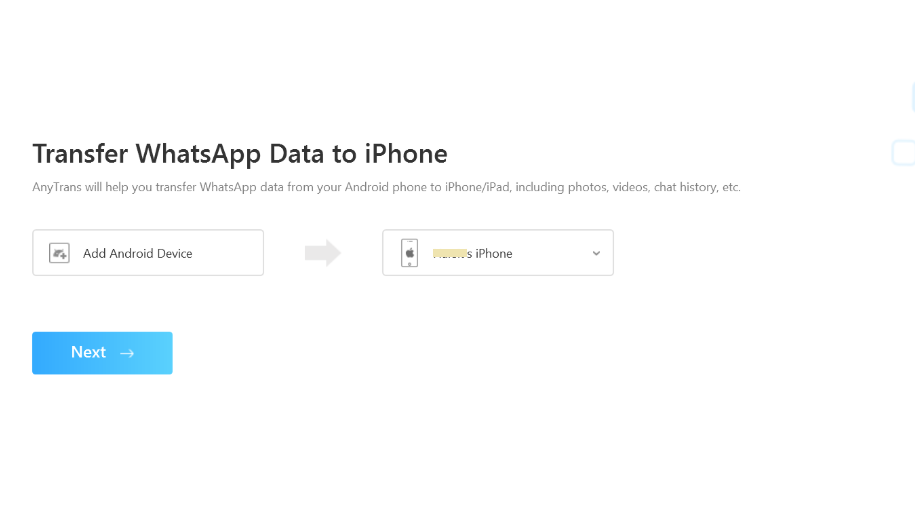 6. Click on Add Android Device. You will get some instructions on how to connect your Android device.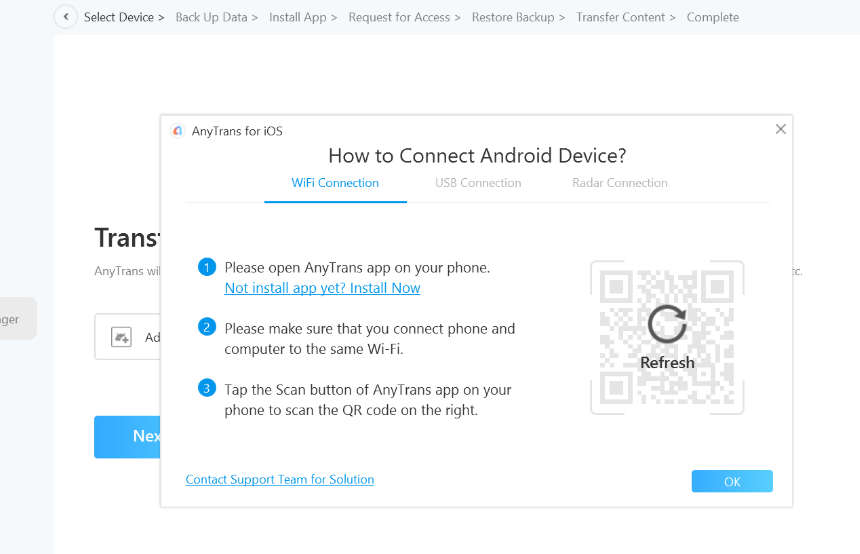 7. After you follow the instructions, you will be able to connect your Android device. If the connection is established properly, you will find your Android device name. Click Next to continue.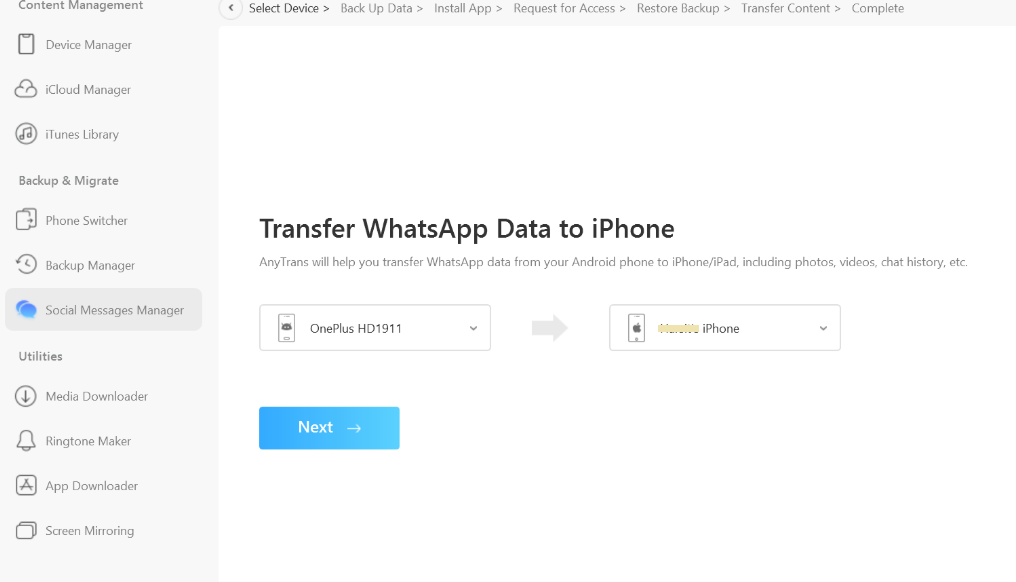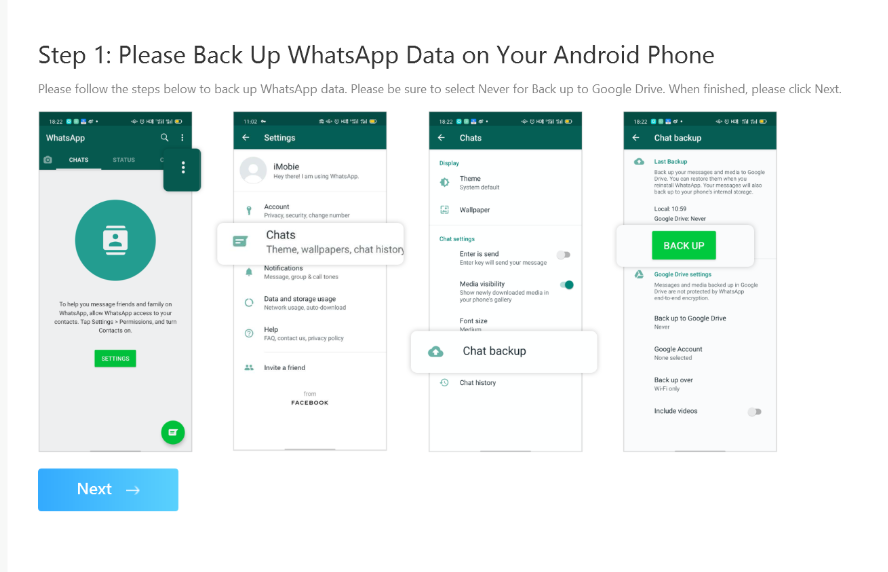 8. Next, you must create a backup of your WhatsApp chats on your Android device.
9. After that, the UI of AnyTrans application will further display a set of instructions, which you have to follow until you successfully transfer the chats to your iOS device.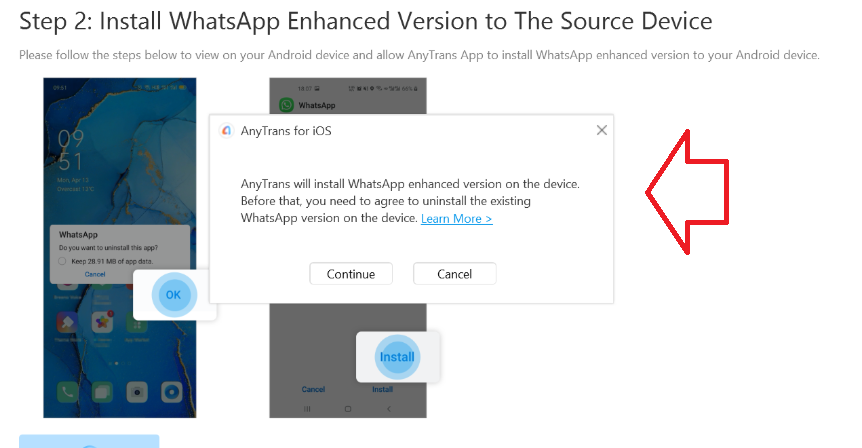 Pros
1. The application is versatile and can address a plethora of issues related to your iOS device.
2. The UI is very carefully crafted, and the on-screen detailed instructions are extremely helpful for any user to follow and understand.
3. The free version provides a lot of the features, unlike other competitor apps which imposes extreme limitations on the free version.
4. This one single app can solve all problems. You do not need to download separate apps for separate issues.
Cons
The application is indeed a versatile one, but if there is one negative point to talk about, it is the complexity of the app. No doubt the app works fast without any lag, but the overall procedure before any activity is tiresome.