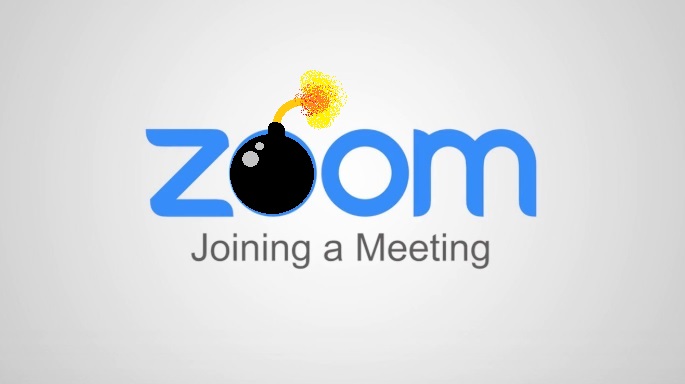 With the world fighting the pandemic, almost everyone is working from home and using various online platforms to continue their business, the most famous being the Zoom meeting app for video conferences. However, lately, it has come to notice that people using Zoom are facing a security issue called Zoombombing.
What is Zoombombing?
You must have heard about the term "photobombing", meaning an uninvited person appearing in your photo. Likely, Zoombombing is the term for an uninvited person appearing (in this case, joining) in your zoom meeting. The bombers' motive is usually to throw a few giggles at the expense of the participants, by hurling racial comments, sharing pornography or other such offensive materials. This doesn't always occur due to security issues in the app. Mostly it depends on how the participant is connecting to zoom. While the links and ids are shared with all the participants, there is a possibility of the link being stolen. Anyone with the password to a particular link can join the meeting and this is not just it. Links are also appearing in search results and are an extremely serious issue. The main reason behind zoombombing is the careless handling of the links.
Also Read: A Few Digital and Physical Security Tips for iPads
How do you keep yourself protected?
While the issue continued to grow, the company also started being guarded against zoombombing. Zoom announced default enabled security features in the app to improve security on April 5, 2020, however, being up guard on your side is always essential. When you log in to Zoom for a meeting, you will see a settings tab on the left panel where you can have a look before you start a meeting.
Also Read: Does Taping your Webcam Provide Cyber Security? A Myth Debunked
The features you should Concentrate on to Disable:
You should take a look into the features and disable a few of them to have a safe and secured meeting:
Embedded Password in Meeting Link for One-Click join: While there is an option to add a password in order to join a link, this option totally strikes it off by encrypting the password in the "join meeting" link.
Screen Sharing: This option allows all the participants or the hosts to share their screens during the course of the meeting. Disabling this can help prevent irrelevant or inappropriate content from appearing in the meeting. This can be custom managed to allow participants to share their screen.
Remote Control: This particular setting is like desktop sharing, as it allows others to take control of the shared screen. This is recommended to be turned off, it's not required.
File Transfer: As the name suggests, this allows the transfer of files during the course of the meeting. You can disable this if not required and also can allow only a particular type of file to be transferred.
Allow Participants to Rename Themselves: By disabling this option you can restrict people to get into the chat room in any possible way. The zoombombers can get into their message by changing their name only even if they don't have access to the chatroom.
Join Before Host: This is an automatically disabled option and shouldn't be enabled. This will help keep anyone off the table.
Allow Removed Participants to Rejoin: When a student is expelled from an institution, he/she is not allowed to join and that should be the case of zoombombers. Keeping this disabled will keep the zoombombers away and you will not have to take the pain of removing them again.
The features you should look out to Enable:
While there are options to disable to enhance security, here are some options to enable to enhance security.
Mute Participants on Entry: Why give someone a chance to speak at all if not necessary? Until and unless it is required, this should be enabled. This will keep away zoombombers if any, from interrupting the meeting. If at any point, a discussion is required, you allow the selected audience to speak.
Always Show Meeting Control Toolbar: This option allows you to have quick access to all controls during the course of the meeting.
Identify Guests/Participants in the Meeting/Webinar: This option allows you to identify each participant who joins the meeting or anyone else you join as a guest.
Waiting Room: This is now a default enabled option. All participants are made to wait before joining the meeting and the host gets to decide if they are allowed to join or not.
Require a Password when Scheduling Meetings: This is another default enabled option and should be considered a mandate. With this, no participant is allowed to join a meeting without typing in a password. In this way, even if a zoombomber gets the link, he/she will not be able to join the meeting.
Virtual Backgrounds: This will allow you to hide your home backdrop when on a video call. When collaborating using hello backgrounds zoom virtual background images, you are offered complete privacy. Plus, with a range of backgrounds available, you can display a professional image.  
Though Zoom has added default options to protect you and safeguard your meeting from Zoombombers, it is your sole responsibility to look into all your settings before a meeting in order to present a meaningful meeting without any outside intervention. If you follow the enable and disenable options wisely, even if the link and password to your meeting are leaked, you can avoid a Zoombomber at the next step – the waiting room. Keep the energy high and keep yourself completely involved before and during a meeting not just for the topic of discussion but also for the security concern, and you will be able to conduct a great meeting.