Phone screen lock is the basic type of security in any smartphone. We all know that there are several types of securities that can be used to lock a phone. For example, PIN, Password, pattern are some of the first layer securities incorporated in a smartphone. Nowadays some advanced level of securities are there like finger print scanner or face detection. Then also, the basic securites are mandatory as alternate options. This is because if you are using face detection and you are in a low light environment, then the phone may not recognize your face. So as an alernative, you have to enter your PIN or password. That said, the importance of passwords and PINs are often forgotten by users.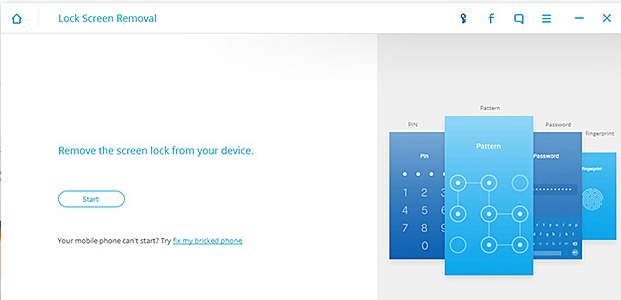 The following tutorial will show you how to unlock LG smartphones forgot password with out the requirement of any password.
Steps To Unlock LG smartphones Forgot Password
There is this software called Wondershare Dr. Fone that has the remedies and treatments for unlocking locked phone within minutes. There are several processes and application which can remove the password like Android LockScreen Removal, Backup PIN, Google Account, Android Device Manager and custom recovery. Here we shall discuss only about the Android Lockscreen removal.
It often happens that a child has tried to unlock your phone with innumerable wrong passwords and your phone has been locked permanently. In these cases, it becomes impossible to unlock the phone. The same problem occurs if you have locked the phone, kept it switched off for some days and then after switching back on, you realize you have forgotten the password. All these issues can be solved by Android screen removal technique.
With the Android Lock screen removal, you can get rid of the forgotten password within few minutes. This will also include PIN, Patterns. The best thing about this software is that you won't lose a single byte of data while setting up a new passcode.
Now let's have a look at the processes.
1. First of all, download and install dr.fone toolkit on your computer. After download, install the application. Next, click on Lock Screen Removal among all the available options.
2. Next, you have to connect your LG G2/G3/G4 phone to your desktop computer using a USB cable. Then tap on Start.
3. Next, you will be asked to enter the phone model of your LG smartphone.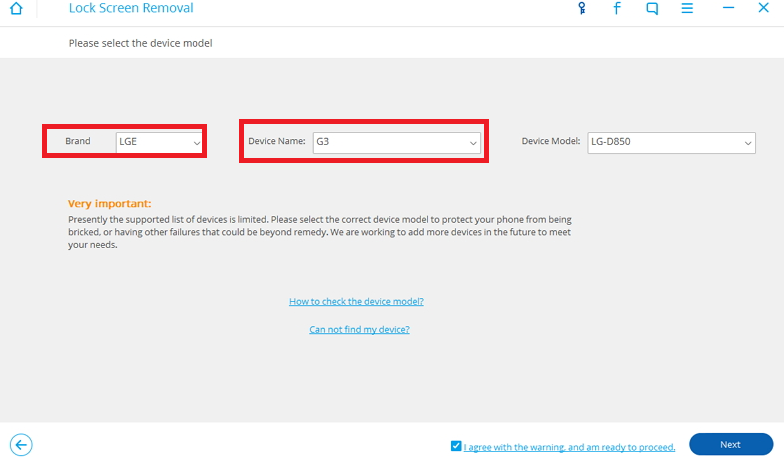 4. Keep on following the instructions as it comes to you. Then do the following:
a. You have to disconnect your LG phone and power it off.
b. Press the Power Up button. Keep on holding the Power Up button, and simultaneously plug in the USB cable.
c. Keep pressing the Power Up button until the Download Mode appears.
5. Your LG handset will boot in download mode. After completion, the program will try to match the phone model automatically.
6. Now tap on Remove on the program . The screen lock on your phone will be removed.
That's all!