WhatsApp is presently the most popular phone messenger service with the biggest number of active users. Every day a huge number of new members are joining this platform. While using WhatsApp sometimes, you may have noticed that you are not able to find a particular contact. There may be several reasons behind it. In this tutorial you will see how to enable all contacts including the Hidden Contacts.
It may happen that you have not saved the number in your contact list. So, check if the number is saved in your contact list. If not, then add the number in your contact with the International ISD code and then look out for the contact in your WhatsApp contact list. Remember for WhatsApp, the International format is very important. For example if your contact number belongs to the United States, then +1 (ISD code of USA) before the number is a must. Another situation is when your contact is not using WhatsApp. In this case, you have no other choice unless your friend joins WhatsApp.
If the above two conditions are alright but still you cannot find the cause, then you msight have marked any contact as hidden, accidentally. If possible, first try to find out that all your Contacts in your phonebook. If that also doesn't work, then you can enable a feature that will show All contacts in your Contact list including the hidden ones.
Check out the steps below:
1. Open WhatsApp. Tap on the three dots, located at the top right corner of the app screen.
2. Click on Settings.
3. Click on Contacts.


4. Now tap on Show All Contacts. This will show all contacts including the hidden contacts.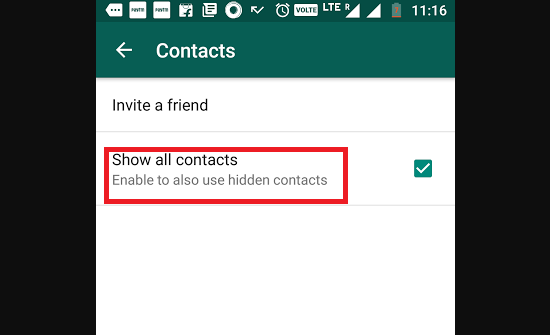 Thats' all!