Selfies are the latest trend for a while now, from famous personality's engagement into it to latest Bollywood songs. Selfies are center stage in all the activities now a days. There's an entire market of devices facilitating and encouraging the behavior and it only continues to grow. Selfie sticks are prime annoying example of such market! There is latest addition to the market: Kira, a ring light attachment for you smartphone.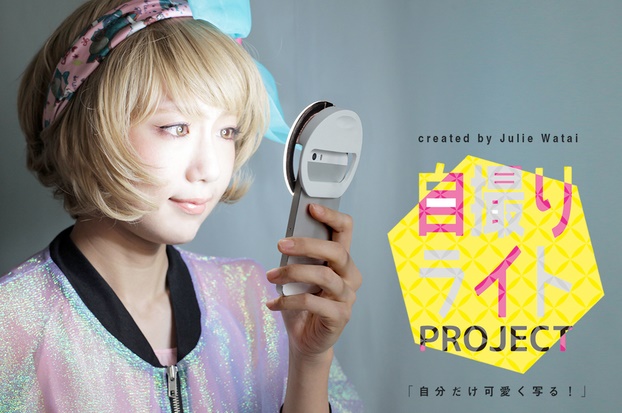 Japanese Photographer Julie Watai has invented new device which allows users to take "glamour selfies" regardless of your surroundings. She has used an odd clip that attaches to your smartphone and emanates light directly into the subject. Watai says she was disappointed when she found that her iPhone simply wasn't up to the task of taking well-lit selfies in dark environments such as events and bar. While the front facing camera would produce slightly blurred and underexposed photographs, the rear camera would cast harsh light.
Own take light" I want magic! (However, only their Utsuru cute!) even in a dark place at night, such as events and Bar I want to own take to clean! But !! does not have a light on the iPhone in-camera takes own and night … to wandering Uhame seeking light (image's no still light is blurred, the first place I'm not reflected cute) portrait photography strongest ring light is I wonder … If you use the iPhone was born from this thought.
– Julie Watai, Japanese Photogrpher
Watai took the ring flash accessory she uses for photographing during her day job and shrunk it down to clip onto an iPhone. She notes that a ring light "creates a powerful, beautiful skin effect and catch light in the eyes so that you can take a beautiful photograph." The current design itself is the result of numerous prototypes and takes only 2 AAA batteries to operate. There is a cable attached for power in the prototype version, but the final design will rely wholly upon its internal batteries for power. The design of the Kira looks like a large, circular clip for your phone, so it will presumably be accessible to all phone owners—Apple and Android alike. It measures 90 x 90 x 30mm, but the bulk of its design does seem to cover up the main screen quite a bit.
This selfie problem in dark environment is not unnoticed and Manufacturers have been coming up with solutions for these dark, grainy selfies for some time now. Samsungs's Galaxy J5 and J7 come with a handset's limited space in the front, manage to feature an actual front-facing flash and LG's G3 use the screen as a front-facing flash, turning most of the screen white while taking a selfie are some of the solutions provided in market. Kira certainly seems to be fresh n exciting idea for the problem! The product however hasn't arrived to its final stages and Watai is seeking public funding through a Japanese website Kibi-Dango in order to get her idea off the ground and into the hands of consumers. There's no word on pricing or availability. Stay tuned for more details!