Want to keep track of places you visited and don't remember the places that you visited?? Well no worries, Google on Tuesday introduced a new feature for users called 'Your Timeline' that allows users to visualize 'real-world routines' i.e. trips of places and glimpses of locations where users have visited. You can now see everywhere that Google has tracked you with its Location History setting. The new feature is heavily based on the Google Maps service and is visible in the Google Maps app and Web interface, and essentially provides a more user-friendly view of the user's location history with the ability to edit and delete.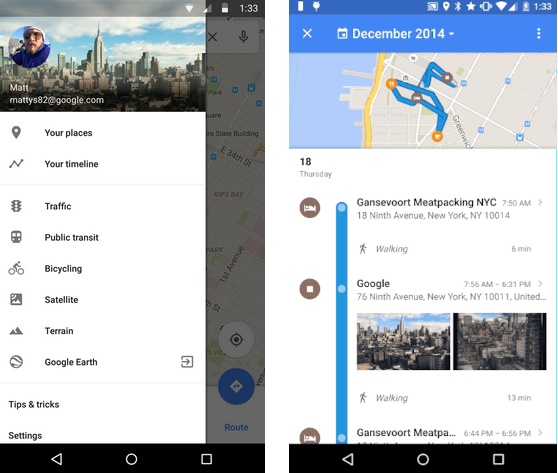 As Google says, a useful way to remember and view the places you've been on a given day, month or year, Your Timeline, allows to see the trips you've taken and get a glimpse of the places where you spend your time and in addition it can also display photos you took when viewing a specific day if you are using Google Photos. Besides giving a scrollable view of the location users have been to, Your Timeline also shows what they did there, for how much time, and how did they commute! Well known for its typically excellent app design, Google justifies its tag with nice, scrollable format for Your Timeline feature which is quite similar to new Google Calendar app which lets you swipe your way through a day to see where Google saw you.
However although the new feature may sound creepy to private users, this is not the case as Google notes that this data is all private to you and you can delete it all at any time! Also if you don't want Google to track your location, you can do the same by switching off the 'Location History' in Google Maps. So along with this privacy safety, Google also allows you to customize the location name of frequently visited places and this will be visible when you logged into it. Locations given a custom name will show up alongside Saved Places in Your Places, called Named Places.
"Your Timeline is private and visible only to you; and you control the locations you choose to keep. This means you can easily delete a day or your full history at any time. You can edit any place that appears in Your Timeline, including removing a specific location or giving a frequented spot a private name like — Mom's House or My Favorite Running Spot. This spot will then appear right in Google Maps when you're logged in."
– Gerard Sanz, Product Manager, Google.
Your Timeline for now is available only for Android (v9.12.0) and PCs. Although, the world explorers may find this new feature valuable and helpful tool, some may find it threatening! So if you're a more privacy-conscious individual, simply take this as a reminder to check out your security and privacy settings.
SOURCE: Google