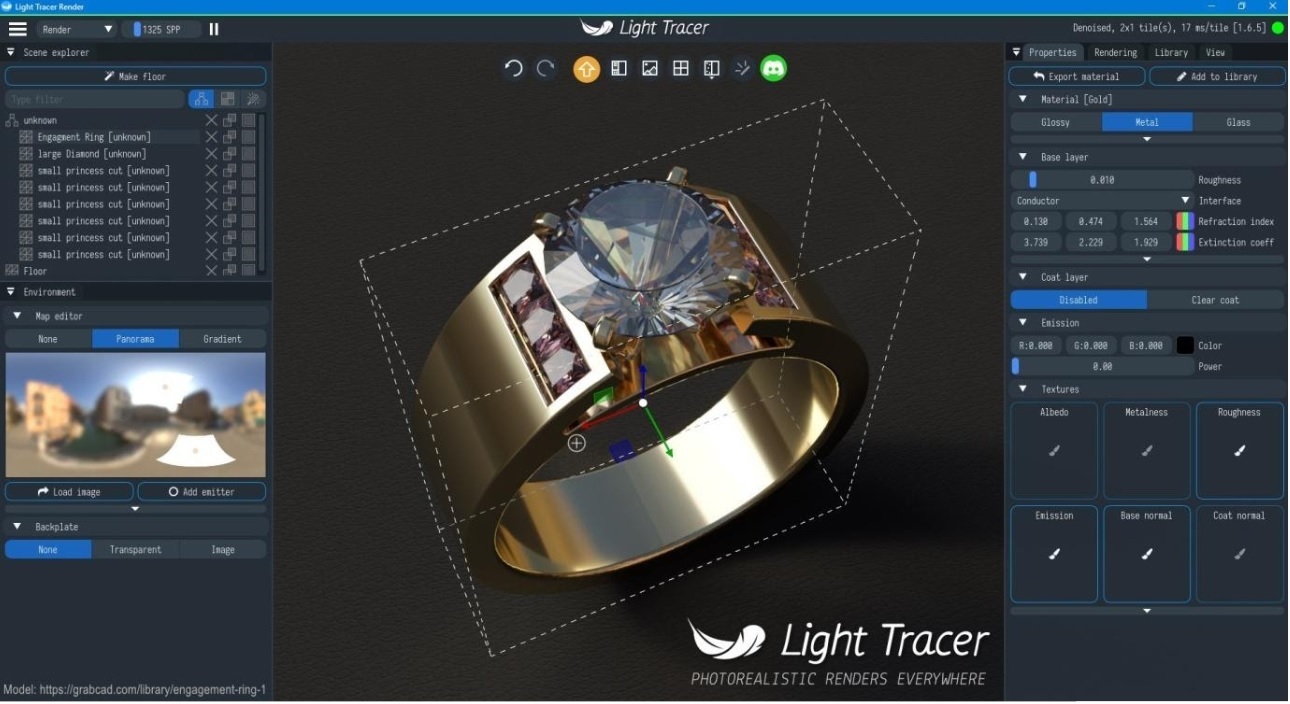 3D rendering (visualization) is the process of generating a realistic image from a 3D model. Rendering is an integral part of a wide variety of areas such as architecture, movies and television special effects, simulators, video games, and product design. There are today a large number of rendering software available that makes it challenging to identify the program that fits both your needs and your budget.
In this article, we review Light Tracer Render that has a number of unique features that aroused our interest. Light Tracer is an interactive physically-correct renderer that can work directly in a Web-browser and as a standalone application for Windows 10. Light Tracer is a 3D rendering software based on its own ray tracing engine, providing identical results for both environments. What makes the renderer particularly interesting is that it allows us to bring photoreal interactive 3D to the web, paving the way for online e-commerce stores offering a fully photorealistic preview of a product (such as jewelry, cars, wristwatches, running shoes or handbags).
The Web version is free for any purposes, and the Standalone one offers advanced features for an affordable price of $39. With the Standalone, you will be able to import CAD, as well as FBX and Collada formats. Also, it has built-in AI denoisers, video generation, advanced light system, and Scene Inspector enhanced with Mesh healing operations. Please check the table below for quick comparison:
Visit the official Instagram channel to see more renders (@lighttracerrender)
Recently, a fresh release of Light Tracer Render 1.6.6 announced, both Web and Standalone versions. The new release comes full of new features like enhanced editing of light emitters and environment map, advanced gradient backplates, import from MagicaVoxel VOX format, improved Web publishing, and lots of fixes and UI tuning. Let us overview the main features of Light Tracer Render 1.6.6.
Real-time global illumination rendering
Light Tracer engine is designed for real-time global illumination with progressive rendering. In general, the rendering performance is on par with the high-performance GPU engines available today including ones built for the NVIDIA RTX platform.
The good news is that the Light Tracer can run on any GPU produced after 2012 – 2013. In particular, it works fine on NVIDIA GeForce 600 series or higher, AMD Radeon RX 200 series or higher, Intel HD Graphics 4000 series or higher.
AI denoisers
The Web version of Light Tracers has a built-in real-time denoising algorithm, and the Standalone one offers two additional AI denoisers based on Intel or NVIDIA solutions. The Intel's denoiser works on any CPU (with support of SSE 4.1 instructions), and the NVIDIA's works only on NVIDIA GPUs, so it is not available on AMD-based systems. According to our tests, Intel's AI denoiser provides the best quality, and it allows for almost instant noise-free previews when editing the scene.
Backplates
With Light Tracer, you may enhance your product visualization with custom backplate images or use a transparent background to finalize composition later. Starting from version 1.6.6, you may also use gradient backplates that can be easily configured in UI.
Passes
Typical render passes are also available (e.g., normal, albedo, depth, RGB index) and can be used for advanced post-processing and compositing in external software. In Light Tracer, these passes are produced with no extra cost in terms of rendering time or GPU memory usage — just switch the type of rendering output.
Flexible light system
One of the key features of Light Tracer Render is a flexible light system allowing to draw light emitters directly on the environment map. Both parametric (e.g., round, rectangular, ring, or star) shapes, as well as specialized ones imported from image files, are supported. Light emitters can be moved, rotated, and scaled in real-time. The environment map is automatically updated on the GPU providing instant visual feedback. The number of light sources is not limited. With this mechanism, it becomes possible to simulate studio lighting, and its setup is as simple as never before!
Import from neutral CAD formats (STEP, IGES) FBX and DAE
The 3D scene can be imported to Light Tracer from most common 3D formats such as OBJ, STL, (zipped) GLTF or GLB, as well as FBA and Collada (DAE). The particularly important feature is ability to import from STEP/IGES CAD formats. When importing from CAD, you may control the accuracy of surface tessellation.
Import and export materials
Like many other renderers, Light Tracers provides support for importing and exporting materials. So, you may extend the Material Library and exchange materials (textured materials are also supported).
Web publishing preview
The Web and Standalone versions of Light Tracer Render form a single solution, complementing each other. The standalone version has a Web publishing feature that allows you to upload your scene to lighttracer.org and share it with other people. The uploaded 3D scene will be rendered when with the Web version of the tool. Some examples of published models can be found on this page.
Light Tracer Standalone delivers fast GPU rendering at a fantastic price — $39 for permanent individual license. You are welcome to a free 14-day trial period without any restrictions in functionality and watermarks. As for Web version, it is absolutely free and even does not require registration! Try it right now at lightracer.org.